Roon Core Machine
Core version 2.0 (build 1128) production located on my NAS : QNAP (QTS 473)
Control version 2.0 (build 1128) production located on my Imac OS Catalina 10.15.7
Networking Gear & Setup Details
NAS connected to Synology Router with ethernet wire
Imac connected to Synology Router with ethernet wire + wifi
Connected Audio Devices
Use a DAC
Number of Tracks in Library
125 000 tracks
Description of Issue
I am unable to get ARC to connect to my core which is on a QNAP NAS.
I tried with the Automatic Configuration → Unsuccessful
I followed all instructions of the ARC Port Forwarding troubleshooting FAQ
I enabled UPnP on my QNAP NAS and on my Synology router. The mapping is OK

I tried the Manual Port Forwarding with the static IP address of my Roon core located on my NAS
I created a new port forwarding rule in your router that uses these 3 pieces of info
IP address: The IP address of my roon core
LAN/Private/Internal Port: Port 55000
WAN/Public/External Port: Port 55000
I tried unsuccessfully several ports (35575 / 55002 / 55000 / 65000)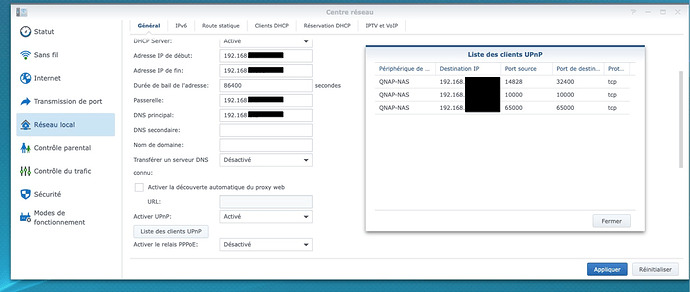 The error message is :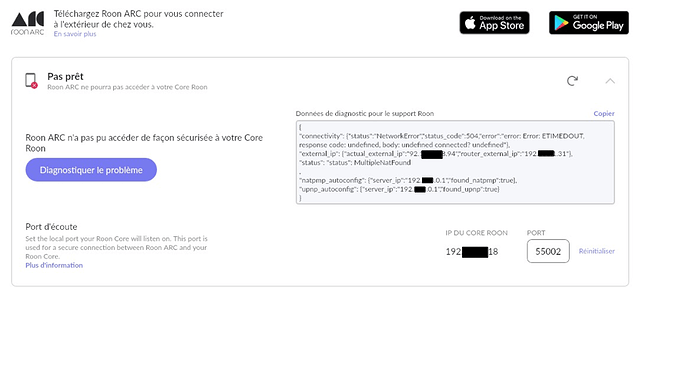 I also followed instruction in this thread
I reinstalled codecs of my QNAP System's ffmpeg binary that had been stripped by the update.
At the beginnning, it was indicated "System default"

So I downloaded ffmpeg for amd64 architecture on johnvansickles website
ffmpeg-git-amd64-static.tar.xz - md5
I extract the ffmpeg file, copied it to my RoonOnNAS/bin folder (which was emptied) and restarted my Roon Server
Afterwards the QNAP message was different : User supplied version

To be exhaustive, I tried with / without activating
NAS antivirus
NordVPN on my iMac
I also tried from my Android phone (still unsuccessfully)

I don't know what to do as I don't have any technical skill / knowledge (port setting, protocol, etc.)
I'm all the more disapointed that I specially updated my roon versions + upgraded my iMac to benefit from ARC capabilities.

Thank you in advance for your precious help !