Hi @benjamin ,
Now I am getting this and not moving forward at all indefinately. Frustrating. Please help!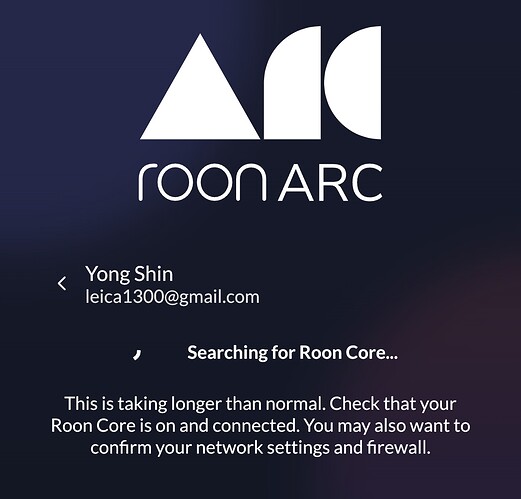 Hey @shinyc,
Thanks for the update. Our team is still investigating this, but we're beginning to see similar patterns of performance issues tied to accounts with libraries of the larger size.
I don't have any next steps for you at this time. If anything, I would test running your system on a small subset library size to see if performance is affected at all.
I'll keep you in the loop as we dig into things further

This topic was automatically closed 45 days after the last reply. New replies are no longer allowed.
Hi @benjamin ,
My original thread(Arc freezes (iPhone) after the upgrade - #4) seems to have been merged to this thread so I am sharing my experience below with you:
My ARC is acting up again. I think it lasted 4 or 5 days since some mild symptoms began to apear like poor connection then restart. From yesterday, whenever an SMS or alert message is received, the ARC freezes. Sometimes it gets unfrozen with time but usually patience runs out and restart the app. This morning, the original symptom returned. It freezes on most finger command and the control returns after a few seconds to a few minutes pause. The music keeps playing though without control(or out of control), then the app eventually crashes and the music stops.
The ARC's memory foot print grew from 4GB to 4.3GB over the last 5 days or so.
I had high hopes since the last chage you made but am very sorry to report this. I dearly miss the last 5 days.
Hey @shinyc,
I'm sorry to hear you're still running into issues. We're still investigating how to improve performance around bigger libraries, and since you're sitting on an 800K sized library, we simply can't yet confirm that Arc will be 100% stable with a library that size.
In order to make ARC work and to support operations with poor or limited connectivity, Roon needs to synchronize information about your music library onto your mobile device. While the data synchronized is much more compact than what is stored in the Roon Core, for this large of a library it is likely still too big for a mobile device.
Aside from limitations in device performance, there are also restrictions on resource usage imposed by Apple and Google which make this scale of data transfer, synchronization, and storage impractical within a mobile app.
We don't have any next steps with your case, but I'm hopeful our continued work around Arc performance may in the future help eliminate troublesome issues for you.
I also have the issue of freezing on my iPhone 13
Simply browsing is enough to get it to completely freeze up.
Reinstall helps for a short period. But I cannot really use Arc.
Do you also have a large library?
Hi @benjamin ,
Thank you for your reply. This is not the first time I am having an issue with roon. I had to reboot the roon core everyday for 2 years due to some sort of memory leak problem. I moved to a ROCK machine. Now, I can reset the ARC app once a week and wait 2 years. I just hope that the wait is shorter. I shall outlive the death sentence. Wish me luck and please keep up the great work.

Hi Benjamin,
I have had also problems with Roon ARC and my 300k sized library. But they are solved by the lastest update.


But how do other streamning services like Tidal or Deezer handle their libraries on mobile devices? I have no problems with the Tidal streaming app and there are more than 90 million tracks.
yes I have a relatively large library.
I'm all but certain this is the reason for progressive degrading of ARC functionality, resolved by reinstall or reset. What is this local data, and why is it additive over time? Since ARC works fine for me for a period after reinstall, it seems the size of my library isn't a problem until some use. Is ARC trying to save history or something with file sizes proportional to library size? It seems like this could be optimized, or at least caches could be purged regularly to remediate the need to reset or reinstall. My preference is less personalization in favor of more stability.
I'm able to manage this now that I know what to do, but I have a buddy, struggling to get ARC working at all. Would love for him to get the full Roon experience.
(iOS, headless core on Windows 12gen i5 on a desktop (with m2 NVMe ssd), 400k tracks)
They broke ARC for me on the last update. Everything that I complained about ARC at the beginning is once again the case. It worked for a tiny little bit and everyone rejoiced but now it is totally unusable again. This is what I hate about this new model of software deployment.
Delete the app and re-install it. This helped me to gain control for 5~6 days. I re-install it every week.
Hi @meATroon,
Routine diagnostic reports do confirm ARC was having sync issues earlier in the month, so we wanted to check if app performance had improved at all. The specific errors in this case suggest a database mismatch, so I recommend uninstalling and reinstalling ARC for due diligence.
thanks for getting back to me about this. I will run ARC through its paces this weekend and let you know how it goes. I did delete and reinstall and so far ARC seems to be doing OK (but I barely had a chance to use it). I got an error message when I 1st started but then things seemed fine (although the phone was running a bit hot, but there were no UI freezes).
I forgot to put my experience with the latest build here (I did reply in another thread). It is getting hot with use and freezing again. I have tried uninstalling and reinstalling but this time it did not seem to help. The bottom line is that whenever I have tried to really use (not just test it out) I have not had a good experience. on the road I now use the streaming services directly. bummer!
There are several of these ARC issues threads. I just picked this one since my main issue has been freezing after use.
Does it seem like one of the recent upgrades helped? I've had luck just restarting my roon core occasionally, and have not reinstalled ARC for a bit. Seems fairly stable, short of having to turn off and restart ARC occasionally.
Someone mentioned on a different thread that it would be nice to have a central list of bugs so we know what is getting addressed. Would help explain some of the changes we're seeing. Also knowing if a new issue is actually due to an upgrade that happened, or is just a red herring, actually due to some other degradation in the ARC application continuum.


One thing I noticed is that the language elements of the playing track, artist, song title etc., are now keeping up with what is playing. Unlike before it seemed like they would start to lag a bit, forshadowing a lockup. Funny though, I just ran through about 12 songs on a local trip and the album art displaying stayed on Gal Costa the whole time. Maybe Roon is trying to optimize it's delivery a bit, focusing on the most important stuff first?
The mystery continues, in a positive direction at least.