I am running Roon Nucleus connect via ethernet to the Router
The Router is a Linksys WRT 1900AC connected to a router-modem combo provided by Optimum ISP. The wifi part of the Optimum router-modem combo is disabled.
I am not using VPN at the router level.
I am getting the following error message when configuring ARC: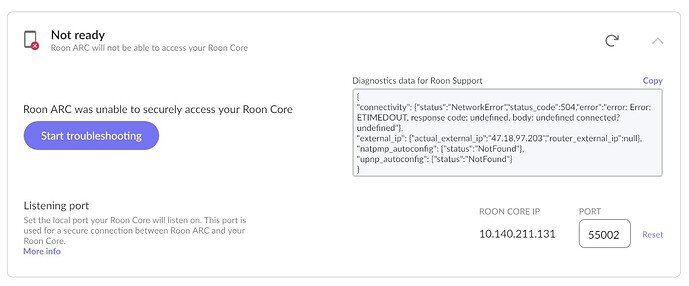 I looked through another post talking about the Linksys mesh router and followed a lot of the tips:
made the Roon nucleus have fixed IP.
turned UPnP off and then back on
turned UPnP off and set up manual port forwarding
turned UPnP back on and kept manual port forwarding just to give it a try.
None of it made a difference.
I am wondering if anyone can make sense of the error message. I suspect that my router being connected to the router-modem combo and that it changed the IP address of all my device from the standard 192.168.xx.xx to the 10.140.xx.xx may have something to do with it.
Thank you all!