Roon Core Machine
NUC5i5RYH, 16 RAM, 500 HDD
Networking Gear & Setup Details
BT Internet

Archer VR900

Deco M9 mesh
Connected Audio Devices
Linn DSM
Description of Issue -
What is the exact port forwarding error message you see in the Roon Settings → ARC tab?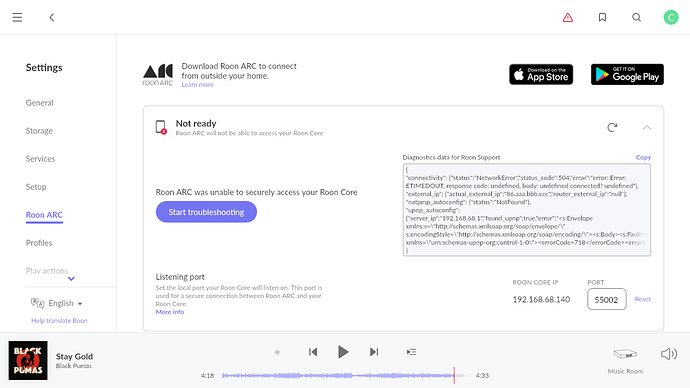 ARC was working fine until I switched from a PC to a NUC with ROCK for my core.
I get the below error message.
I just can't work out what to do.
Any help will be greatly appreciated.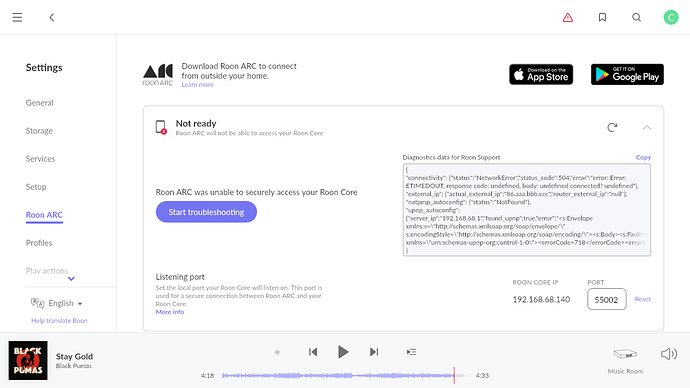 {
"connectivity": {"status":"NetworkError","status_code":504,"error":"error: Error: ETIMEDOUT, response code: undefined, body: undefined connected? undefined"},
"external_ip": {"actual_external_ip":"86.aaa.bbb.ccc","router_external_ip":"null"},
"natpmp_autoconfig": {"status":"NotFound"},
"upnp_autoconfig": {"server_ip":"192.168.68.1","found_upnp":true,"error":"<s:Envelope xmlns:s="http://schemas.xmlsoap.org/soap/envelope/\" s:encodingStyle="http://schemas.xmlsoap.org/soap/encoding/\"><s:Body><s:Fault>s:ClientUPnPError<UPnPError xmlns="urn:schemas-upnp-org:control-1-0">718ConflictInMappingEntry</s:Fault></s:Body></s:Envelope>"}
}
On my Router this is the UPnP page…