There was a Don Robertson that was born in 1922 and then there is a Don Robertson that was probably born in the early 50's. Roon does has several of the newer Don's albums but the narrative in the artist section has the older Don. How do I get rid of the biography that doesn't apply to the newer Don? @support
Oh Sees, Thee Oh Sees, OCS: these are all the same band, more or less, helmed by John Dwyer. I say "more or less" because AllMusic has broken out "OCS" into its own entry, based on Dwyer's use of the name for some of his folkier recordings with Brigid Dawson, and that's not unreasonable. But there's no good reason to split the "Thee Oh Sees" and "Oh Sees" into separate artists; they really are the same band.
The artist description/biography for Inquisition refers to a post-hardcore band that has only one album available on Tidal. The other Inquisition is a black metal band and has seven main albums available. I would like to have the correct description for this black metal band.
A lot of confusion with multiple artists called Michael Davis
Roon has several Michael Davis but not the classical violinist:
I am getting random Michael Davis being associated with LSO albums, like this Jazz trombonist:
On the artist page, this jazz trombonest Michael Davis seems to be mixed up with yet another Michael Davis: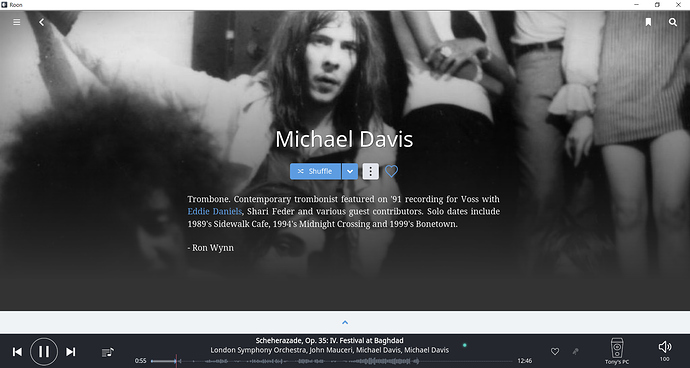 "Savage Rose" is correctly described with Rovi metadata, but "The Savage Rose" is kept separately as another band without description. Merge them.
It seems Roon equates the Scandinavian letter "å" with "a". They are, in fact, on opposite ends of the alphabet.
In the case of the Norwegian group Gåte, the Roon group meta information shows the entry for New Zealand's Gate, and that's quite wrong. Gåte ARE known in allmusic.com so it's not that no meta information exists - how can I get my Roon database to point to the right information?
There seems to be something wrong with getting to the bio of Dave Stewart of Eurythmics. Clicking his name in the Eurythmics bio you get to somebody different. Also when looking at Stevie Nicks. Her " In your dreams" is produced by Dave Stewart. Clicking his name you arrive at the same (wrong) Dave Stewart.
in my eurythmics page the dave stewart link is OK.
on the other hand, the dave stewart artist is associated to some "suspect" albums: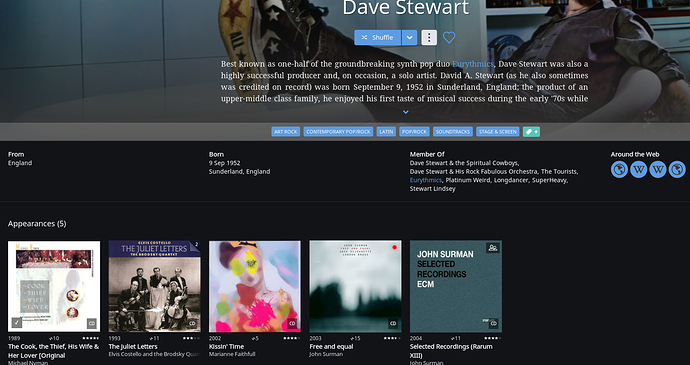 and quite curiously, no eurythmics album is reported (i have 2). it seems that in those 2 albums "dave stewart" is referred only as a composer, and not as a primary artist: QUITE STRANGE.
and making a check, it turns out that this "dave stewart" has been wrongly identified with a trombonist "dave stewart":

that maybe is the "dave stewart" resulting in your artist page

@joel: i've checked, this error is not in my file tags ("dave stewart" is not tagged). so this comes from roon DB
EDIT: i've add file tags credits to one of the albums, with "David Stewart" trombonist. my idea was to delete the wrong "Dave Stewart", but i couldn't. in fact, while now in the album credits there are both "Dave Stewart" and "David Stewart" (both trombonist) in the individual tracks credits there is only the newly added "David Stewart".
so, really, i cannot solve this problem, that should be solved as some level in roon metadata.
Thanks @Niccolo_Terzi . We had already identified the bad equivalences and made an edit. Either @mike or I will be updating this thread soon.
I can't seem to the Eurythmics Dave Stewart at all. I end up at a keyboard player and a saxophonist.
It will take up to a week for the new metadata to be pulled into your library. You will probably need to manually change the artist image(s) once the edit takes place.
wrong anouk here: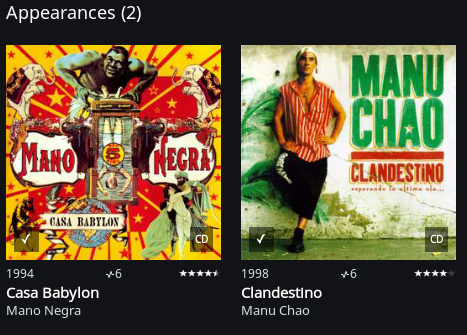 the anouk in manu chao (mano negra) albums is not the netherland singer, but Anouk Khelifa

the error is in roon metadata database (not in my file tags)
EDIT: still hoping in a discogs/roon integration… in my opinion, that is the most complete database. not without errors, though
Apologies if this one has been raised already. Nirvana…
The original UK Patrick Campbell Lyons outfit and the Seattle grunge masters.
Despite labelling the PCL outfit in my files as **Nirvana (UK) ** they albums are still listed with Kurt's gang
Which albums @Kenny_McHardy? Please can you post a screenshot? Our processing equivalence for Nirvana is good (this is a known problem artist name) and either there are bad attributions coming from our metadata providers or something funny is going on in your library. Either way, we'll try and get to the bottom of it.
Hi Joel
Mainly sorted after the re-load, only one minor mix from a compilation album.
Don't know how to load the screenshot on the iPad