I will certainly make a donation for your time. Any other details I can help with as well.
Probably by hooking up the dac in question to a USB port on the RPi, turning it on and sending a feedback under the advanced tab to Harry - often its just a matter of plugging it in and it will work anyway. Is this not the case?
Thanks much for the advice. I have completed your recommendation. The unique identifier is d18bf34e0a02eddd. I have tried several selections on the dac but none seem to work. Any other suggestions?
maybe ask the DAC support (link on the taudac site) to send details to harry for their inclusion too
@Brad_Sanders did you try i2s dac? I use this for an i2s soekris dam1021 dac board with ropieee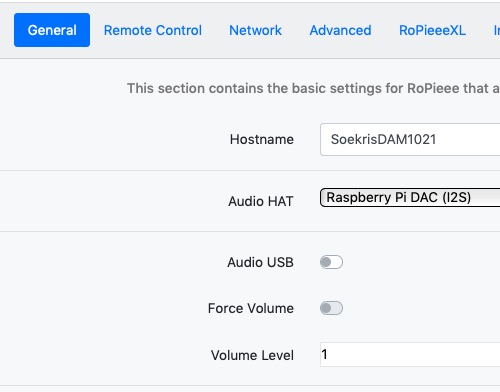 took a little digging but
'Mr FixIt', thanks for your suggestions. I tried the generic option (DAC) first and have been going through the many selections. None seem to work yet. I knew that TauDAC would work with Volumio, as I have been engaged with the engineer (Sergej) in Germany for almost 3 years. I looked at Volumio, but didn't like it. I have been a Squeezebox (LMS) guy for 12 years and Sergej was kind enough to build a distro for PiCorePlayer. Not bad, but then you must be running LMS. I really liked that Roon would work with both my old boxes and Sonus setup I have. The problem has been my hand built AMB headphone amp and Twisted Audio DAC is great, as long as there is a computer nearby! I wanted the option of driving my rig with a small footprint device that gets the audio via network. My rig thus becomes exceptionally straightforward with no additional fluff or degradation from devices. So the rig is TauDAC to tube amps to custom Magapans. Simple with exceptional sound. I am in the middle of a build with the TauDAC with active balanced/unbalanced outputs (from AMB board) in an enclosure where all I/O is available from the back panel. I do hope that Harry picks up the feedback request, just waiting now.
Still no word from Harry re: TauDAC option. Is there anyway to connect or other information which would be helpful. BTW, I have the PiCorePlayer working in Roon which is great, but would still like to option of RopeeXL and the display. Thanks to all for assistance!!
Did you ask Sergej? I just got a reply from him about balanced output (XLR) and he apologized for the long delay in replying. So he might be back on email…prices are a bit steep for me tho at this time.
I had sent Sergej an email a few weeks ago, sometimes it takes him awhile to reply (family, job, building a house, covid, etc, etc). I haven't heard from him, but I am glad he responded to you. Yes, it is pricey, but well worth it. My 'complete' package I have been building is continuing. Waiting for the panels to show up next week and then assembly, testing and listening. If you do decide to go with a TauDAC, and are interested in single ended output, I have mine which won't be used anymore, and you are welcome to purchase it from me. I have asked Sergej for 2 more DAC's and waiting for reply.
For those interested in the balanced outputs here is some eye candy. It's the Lundahl output transformers that caught my attention. Some of the lumin's use this brand on their outputs too.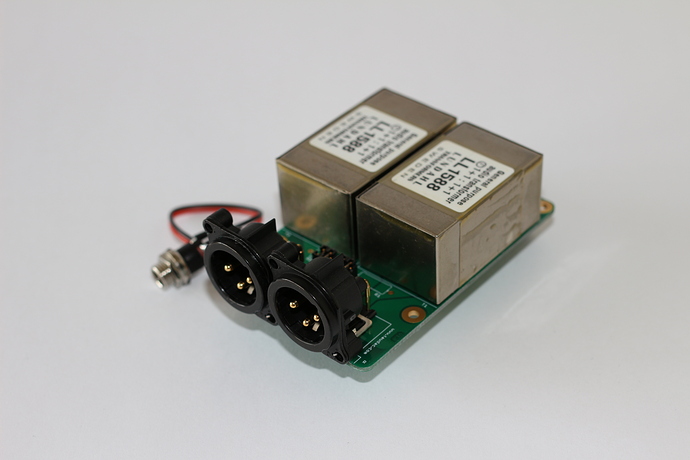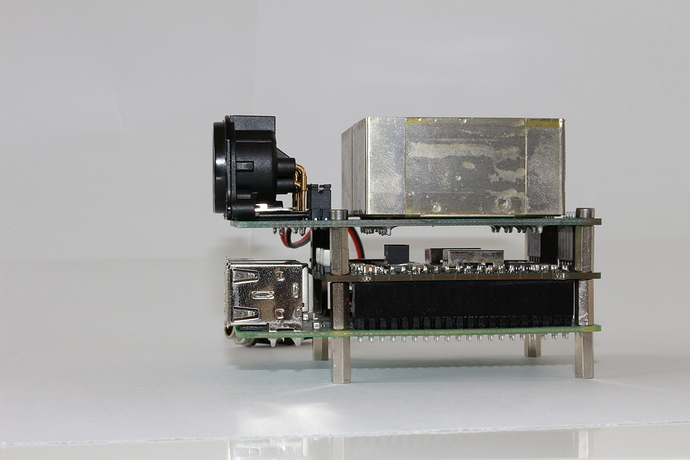 I don't have the device, so that's going to be difficult.
Furthermore these guys have not upstreamed their driver, which also makes me … at least hesitant to add support to it (because it adds a maintenance burden).
Thanks
Harry, if you let me know what it is you need I will make every attempt to get it. I appreciate the reply and I will see if Sergej will 'upstream' the dac. What else do you need?
Harry, I have been in communication with Sergej and he is happy to work to get TauDAC added to your support list. What do you need? I will do everything I can to make this happen. If you can provide a detailed list then I can work to get that accomplished. I know you don't have the device. It is fairly limited at this time. I do have one and if I can provide the testbed, I am happy to assist. Let me know.
Hi Brad,
Adding hardware with a non-upstream'ed driver without having the hardware itself…
Makes the development cycle far from ideal, and certainly not 'fun'. Keep in mind that this is a hobby project.
Currently the driver requires a kernel which is not used by RoPieee (yet), so that's not gonna fly.
Thanks
Thanks for responding Harry. So, just to be crystal clear, even if you had the hardware, because RoPieee doesn't run on the kernel the driver does, it would not be in your interest to work on this (today). I understand it is a hobby, just like TauDAC is a hobby for Sergej. I would like to understand if there is a donation aspect of generating interest on your part, what that would be? I could work on getting some loaner hardware for you to be successful, if you are interested. Thanks again!!
It's not about interest. In general I'm favourable to adding new hardware.
But it must be doable. I'm not going to change kernel because TauDAC has not upstreamed it's driver or requires a kernel version I'm not running (yet).
In the near future (I expect somewhere the coming 2 months) I will upgrade to the new kernel because in general I follow the Raspberry Pi guys. Then at least it is less work, right now it's just not compatible.
I am also on the TauDac path and am wondering if you have had the chance to work on this recently? Thanks for all the effort and work you supply to this community. It feels like a warm welcome to those of us that are new to it.
Jonathan, glad to hear of another interested party. I have been in contact Sergej in the near past and I have been give permission to produce units here. I packaged my TauDAC in an enclosure with bells and whistles, but have been hesitant to produce units here due to cost and not knowing if there is sufficient interest here for the devices. I believe the quickest path to a RoPieee support would be to provide a unit to Harry for the work he would have to accomplish. If you would be interested or know of others, it may help in my decision to produce units.
Brad, I have just this morning pinged Sergej about timelines and availability of the TauDAC internals. I'm not sure I could afford both that and the amazing case you have designed and prototyped in the other thread

. Perhaps there's also a market for the not-quite-so-deluxe case and power supply. As to getting a unit to Harry, that rests on when Sergej has them available. I could probably provide it to Harry for dev efforts. Making sure a driver works without the actual hardware is somewhat non-trivial. But you all know that.
Those are mighty nice. I also use them in my output section. These are nickel core units that are very nice: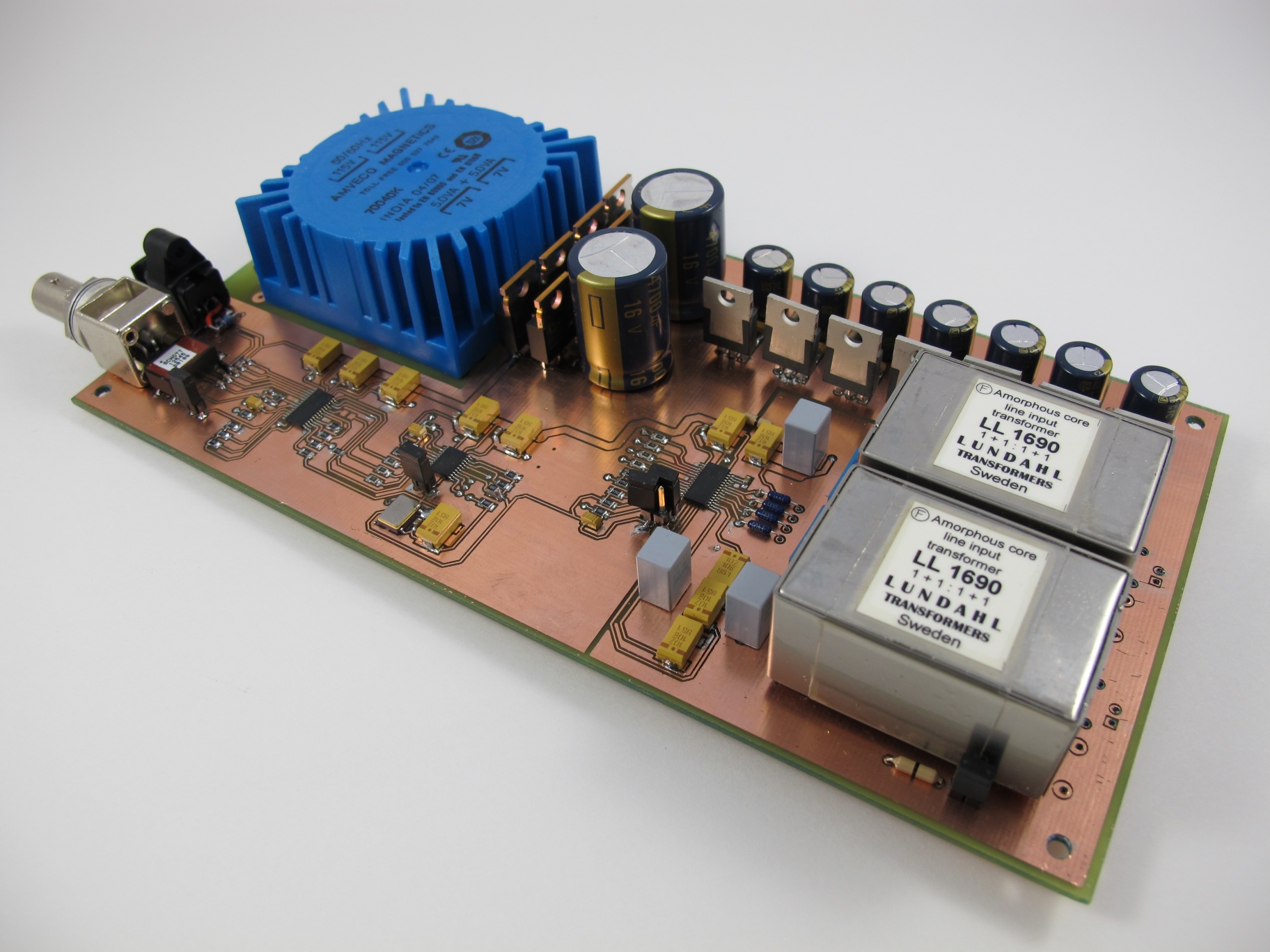 Objectively the output performance isn't as good as a solid state active output, but man is it a musical and enjoyable experience.
Also @wizardofoz would you be interested in chatting offline about your integration of the Soekris DAC board?
Sheldon