This is not a big deal but an area for exploration. I wonder if there are other similar cases.
I first searched for "Wallflowers" and got the following. Note that the earlier result is a direct match to my query. Clicking on that I was taken to a page with a single album and no image (below). I then searched on an album by the band and realized that the correct name was "The Wallflowers." Using that query, I got the expected results with the full discography etc.
I know the use of "The" is problematic and challenging. Just a thought, could there be a message generated in the results that says - did you mean The xx. I'm sure that there are other ways to approach it. E.G. popularity, plays after search, etc. A thorny problem for minds smarter than me. (BTW Google nails it).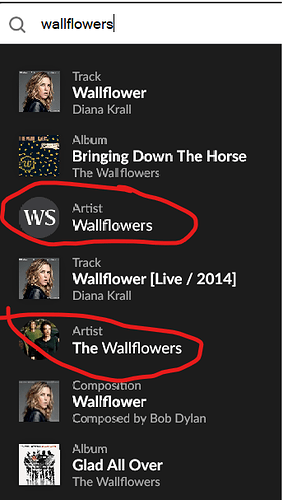 Results for "Wallflowers"