Core Machine (Operating system/System info/Roon build number)
Imac running iOS Catalina 10.15.4. Roon 1.7 (build 610). Mostly play Tidal music through Roon. Running Audio Quest USB from Imac to Chord Qutest DAC. Then RCA out to Canary Audio Analogue Tube PreAmp, then to Canary Audio CA-301 AE 300B tube amp.
Network Details (Including networking gear model/manufacturer and if on WiFi/Ethernet)
Ethernet internet connection from AT&T fiber.
Audio Devices (Specify what device you're using and its connection type - USB/HDMI/etc.)
See above for audio devices.
I know the Chord Qutest does not decode MQA. When I set it up, I went with the default settings and the screen shot below is what my signal path looks like when playing Tidal MQA music through Roon.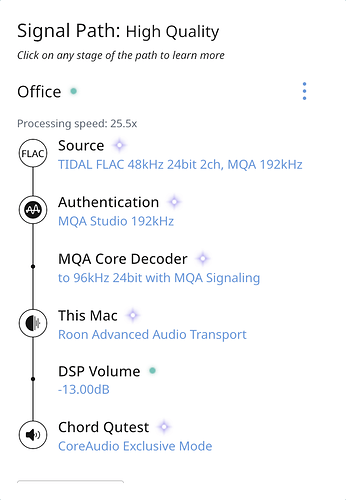 if the image didn't come through showing the signal path, let me know.
I just want to ensure that I have the best configuration for playing Tidal MQA tracks.
Thanks,
Wade