Sending feedback…reboot this morning before this happened as roon lost control of device when I tried to play.
85fd38aca097dcbf Feedback
Retried again but disable took this time but Spotify is still broken, zone cab be chosen and playback looks like it started but no sound
Another feedback with it playing but no sound here 119638cdf53b4900
Roon playback works fine it seems
Can't read both feedback files.
This happens quite a lot with your feedback. Wondering how that's possible…
Anyways, I'll look into the Spotify stuff (updated the client).
Thanks for the feedback!
Thanks Harry, mrs said it hung her Spotify client and I recall it made a burst of about a second max of a track and just died.
Not sure what to make of the feedbacks. Maybe time to completely reflash everything?
Maybe.
Spotify issue is confirmed, looking into that right now.
Spotify fix is available.
Thanks
Still some timing issues after update and reboot button shows hit and answer yes it sits there even after serveral hit and yes attempts then eventually it reboots
What do you mean? It doesn't respond when you hit the 'Reboot & Update' button?
Yeah…then eventually it reboots…also no devices getting shown up in devices now all dropped off as I've updated them…all,gone now…even the tab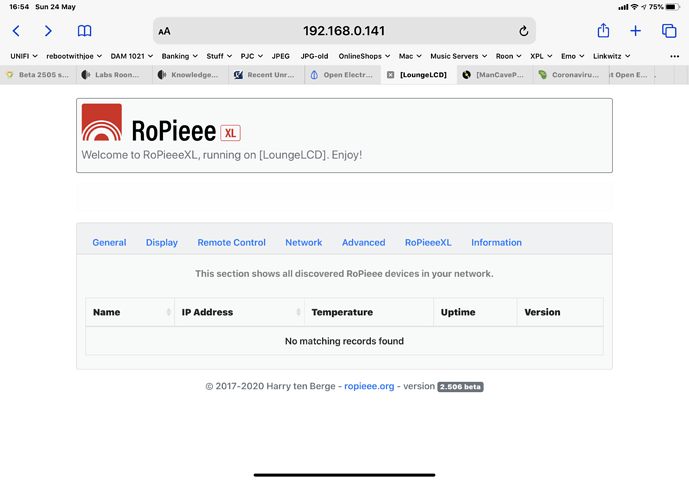 Ok can you send me feedback of one of the units?
I've rewritten the service discovery of the units. It also … might require another reboot.
Even dropping back to stable channel it's still showing no display tab and now 2506 stable
No but that doesn't work like that.
It only defines the software channel being used for fetching updates, but it won't roll back the beta channel stuff. That's something I need to make clear in the UI.
Ah ok…I'll do a feedback…fingers x 680cc7648a777402
nope

this is so weird.
Jumped back to beta again then. I like the reboot update screen working on it style nice touch with auto updates to the page
Try this one from a recently flashed sd card and lan connected b92c13b96bb8a289
Ok thanks.
I can reproduce the missing service discovery over here as well.
Looking into it right now.
Fixed, update is available.