[I edited this to include a screen of my signal path with DSP Volume engaged]
So I've now had Roon running for 3 months, and I love it. What I don't like is how I have to control volume in my setup.
I run Roon Core on a powerful Windows machine with a Ropieeee Roon Endpoint running into my dac. I use the Parametric EQ DSP for speaker correction, so I have DSP running all the time.
My dac does not have built in volume control, and feeds directly into my amp. What I am trying to achieve is the simplest/purest signal path, which I am sure is the goal of many others with high quality Roon systems.
The best path (IMHO) would not include analog attenuation, or an additional step of digital attenuation in the endpoint, or even further on in the dac. A Roon Ropieee endpoint's digital attenuation is not very high quality. However, since I am already using the Roon DSP engine, adding in a volume control within the DSP does not add in any degradation to the signal, it's already being processed in this step, it's just an additional calculation at 64 bits, and practically no bits are being lost.
I currently adjust volume by using the Headroom Management in the DSP and sometimes by adjusting the level of the Parametric EQ. But the Headroom Management only attenuates to 30db. The sound is amazing this way. This works ok for me because I am primarily controlling Roon from my Windows Desktop, and I don't adjust volume all that frequently. Here is a view of my signal path with DSP engaged, note that it is also not bit perfect because of the DSP.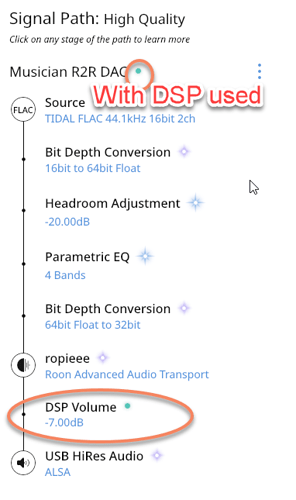 So, what I'd love would be a Filter or something in the DSP that does a level control, and optimally mapped to the volume slider in Roon. This would provide the easiest and highest quality digital attenuation Roon can offer (without taking into consideration what's happening in a DAC etc). And this attenuation would probably be superior in fact to the digital attenuation that happens inside of most dacs.