#Littlethingsthat'llmakeroonbetterforme
As a user, I would like to browse music folders directly in order to add downloaded files to the library and organize them in playlists (and then forget about the actual path).
Story: I use mixcloud (which then transfers to juno for purchase), beatport and the like to discover electronic music and then purchase them as high-res and download the FLAC files.
An example of how it looks on disk: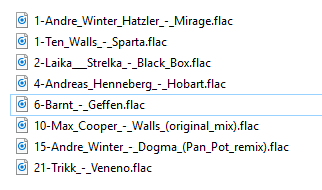 As you can see with these sort of "standalone" entries (very common in EDM, Techno, House) it is cumbersome to access from the roon library for the first time after they are added automatically as there is no common attribute other than the folder they were downloaded to.
Today in order to do that I need to manually type the name (which I'm eyeballing from the difficult file names in the open folder side-by-side) one by one in roon's search.
You can try and see, it's a fun exercise. Not really

Being able to navigate to the actual subfolder they are grouped in (since downloaded together) would've made this task a breeze.