Does the iPad roon app play roon library on the iPad speakers or is it only a remote?
Not yet. See this thread for more detail.
You can route the Mac's Audio via Airfoil (Mac/Windows) https://www.rogueamoeba.com/airfoil/ to your iPad or iPhone (Airfoil Satellite). While the iPhone/iPad App is free, the Airfoil Programm for Mac or Windows from Rogue costs 29$.
It's somewhat of a Hack, but it works very well until we see a Roon-certified Solution.

Version 9.3 of the iPeng app now enables play from Roon as a Squeezebox server. You must purchase the iPeng app ($8.99) and the in app Play upgrade ($4.99) and enable Squeezebox support in Roon.
Thanks, have purchased iPeng, given it supports higher quality audio than apple and I have a squeezebox device in my bedroom that doesn't play well with Roon, it was an easy choice - or at least I thought it was. I didn't think it through and realised I had to turn squeezebox support in Roon on doh.
Oh well, at least I can use it as a remote.
All because Roon, think controlling the LCD on a squeezebox boom is automation - therefore the damn clock either doesn't work or burns my brain out because it's too bright - not great in a bedroom. It also won't go back to clock after playing a track. Haven't found a fix for that yet.
I still have the same question - surely it cannot still be an issue, and it is just my configuration? My iPad Air (iOS 12.4.1 with Roon 1.6 Build 416) will not show up as an audio output as has been shown elsewhere here in this forum ("it just shows up, no config needed!").
/Andreas
Your iPad does not show up as an end-point device from your Roon core device. However, open your Roon app on your iPad and click play and it will play to the iPad speakers or, better yet, plug a Dragonfly and headphones into the iPad for some great sound. Of course, your Roon core device needs to be running and both devices connected to your WIFI network.
Your iPad can definitely be a Roon Endpoint, and you can control it from other devices. When you enable it as an endpoint in Settings/Audio, just make sure it's not a Private endpoint and you will be good to go.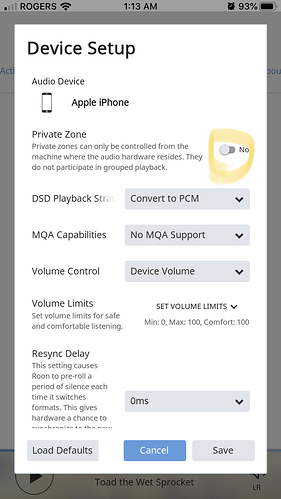 Agreed, I have been using my iPad as an endpoint for some months now. What I have noticed is that it occasionally disappears from the endpoint devices list - though will tend to reappear relatively quickly or on app restart. Don't know what causes this.
Thanks for the reply. The description you posted unfortunately does not work for me, no sound on the iPad (have tested on my iPhone as well, no difference). Can it perhaps be because the Roon Core is sitting in another subnet, and doesn't get auto-discovered (I have to enter the address of it)? Is perhaps Airplay used for sound transport to the iOS devices as well? I haven't yet figured out how to fix Airplay through between my subnets, and have read that it seems to pose some problems.
Is there a complete list somewhere of which firewall openings that are needed for Roon to work? Or some kind of connection list/diagram?
(regd the Dragonfly - I have a Meridian USB DAC just waiting for these connection troubles to get fixed, so I can get the sound I deserve ;-))
/A
Sorry, but are you saying that you have more than one subnet (i.e. IP address range) in your home network? If so, that is almost certainly the issue here. Roon devices communicate with each other in a contiguous IP address space, and not across subnets. See this KB article.