This used to work but it does not load. Any advice is appreciated.
Thanks
Jeff
I see two streams for KLOS 95.5 live radio and they both work. They take a few seconds to start but they do work.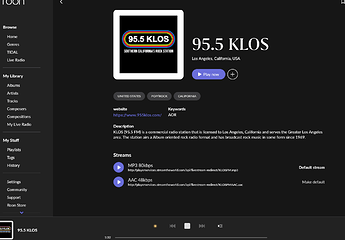 Not sure what you are saying about the "Breakfast with the Beatles" part of your title.
Hello @jeffzaret , where are you based? The station is now US only. I have marked the streams accordingly.
I am unable to stream. I am in Southern California. I have tried TuneIn, iHeart and directly from KLOS. I get playback was unable to load stream was interupted…or something like that. If you can stream it can you give me the URL??
Thanks
Jeff
Brian,
That stream does not work either and I am not sure why but I will keep plugging away.
Thanks for your help!!!
Jeff
Doesn't work in Roon or doesn't work anywhere? Browser? VLC?
Do you have a VPN running somewhere?
I thought of that and yes it works from a direct stream on my laptop and VLC works too. I got it to work straight from the website URL, https://www.955klos.com. I am not sure it works that way, but I will take it. Breakfast with the Beatles is somewhat of a tradition that I listen to Sunday mornings on KLOS. I think it is also on TuneIn and iHeart which I will try again Sunday.
Brian thanks a bunch!!!
Jeff
Can you try WVTK? I think it has (a different?) Breakfast with the Beatles and it is US only. It would be interesting to see if you can receive that.
This topic was automatically closed after 22 hours. New replies are no longer allowed.