Hi Team,
Why can't I find Taylor Swift's new album EVERMORE in Roon? It's available on Tidal.
Regards,
Tushar
It will come, but it takes a while for new releases to get into Roon. See

Listening via native Qobuz on my Naim Atom, she's gone and produced another very good record. Quite an achievement for 1 year with just 5 months between each. They compliment each other well but do have a slightly different feel from each other.
I modified my setup to use Roon with ropieee and avoid resamples done by my Linux computer, it's a shame I have to switch back to use a web browser to listen a new album.
This is the one advantage of a streamer over a pc, they tend to have the streaming services natively so you can use those if Roons not working in any way.
Of all the new releases announced today at Qobuz, I have aaded 6 to my library for future listening.
One of the 6 albums is the new EP of Taylor Swift.
I am sure that when I have finished listening to the other albums, Taylor's album will be available as well.
Dirk
If you haven't found it yet, my daughter just showed me where it's buried.
Search for Taylor Swift
Click on the Top Result
Scroll down to Main Albums
View All Main Albums

Not yet at Qobuz - Based in Belgium. It will arrive sooner than later.
Dirk
Taylor Swift's EVERMORE is now on ROON…

I'm using Qobuz and I don't see it.
Me neither on Tidal.
Correct that: it's there. Still confused by the search interface for Tidal. If I search for Taylor Swift and then go to albums you can find it, but searching for Evermore doesn't bring it up.
Roon needs to do some work before searches work apparently. See

Try searching for "taylor swift evermore"? "evermore" by itself probably doesn't have enough popularity yet to rise above existing albums, tracks, etc. with "evermore" in their titles.
Still not on Qobuz via Roon.
Roon needs to work with Qobuz to get the data for new albums from the more popular artists available in a more timely manner. I personally don't care about this album…but a lot of people seem to care.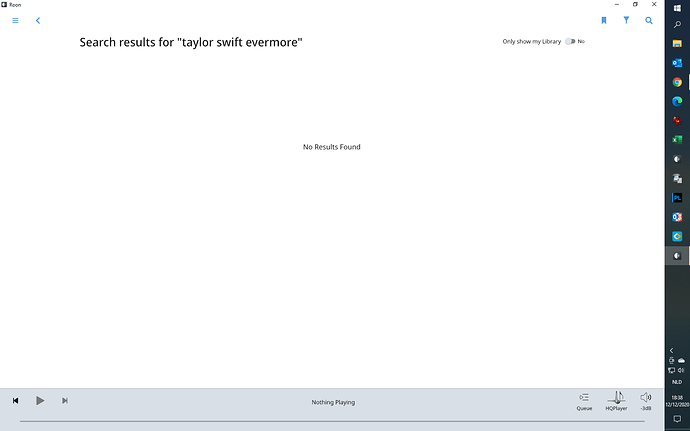 Now, if I look at Qobuz, I find 4 (four) versions of this EP.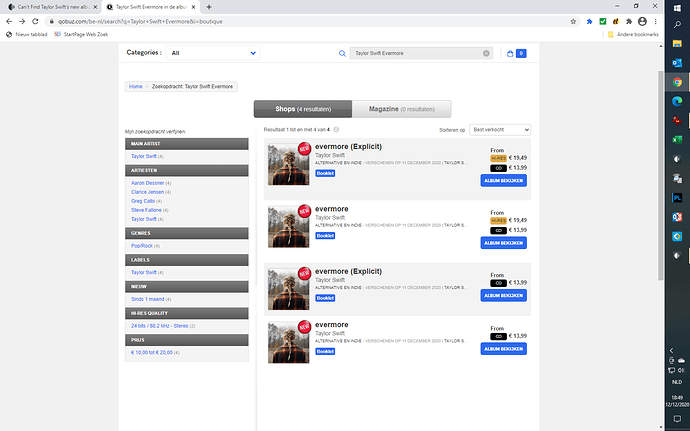 I hearted the highres 'explicit' version of the EP, which does not show up in Roon.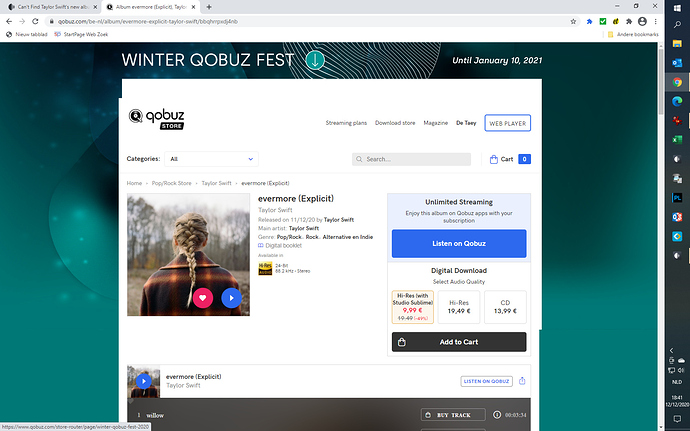 Trying to understand what is going on, I unhearted this version, and tested every other one.
Unfortunately, the 3 other versions are not added to my Roon Library.
So, we will need to wait another couple of days ?!
Maybe worthwhile for the Roon guys to track this album 'vailibility' case with some extra attention.
Dirk
I had a listen, don't think I'll play it again…YMMV

Sometimes, it is almost as if complaining that you can't find something is the only way to train Roon's search engine to actually find it without any faffing about…