I have Karajan's 1963 beethoven cycle and the standard identification process has this spread over six discs, but instead of grouping everything together in a single entry, it's grouped into five albums, one of which being two discs.

When I use the "Fix track grouping" to make the individual albums match the data expected by the identified tracks, it does basically nothing. For example, the 2-disc entry looks like this in "fix track grouping"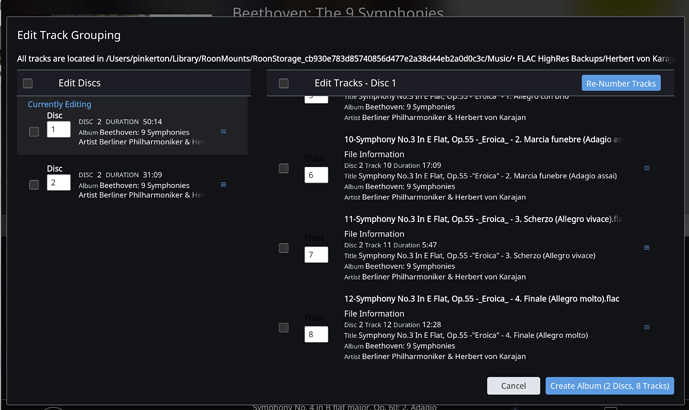 The identified metadata wants these tracks to all be on disc 2, tracks 9-17, and not for some reason spread across two discs, each starting over at 1. If I make these changes then save them via "create album (1 disc, 8 tracks)", I instead get an unidentifed album with no extra metadata. When I identify it, Roon converts it back to the starting point: two discs each starting at track 1.
I see no way to actually get this into a form that Roon wants to make it be a single entry with a continuous track listing. What obvious thing am I missing?