Hi,
Some time ago I stopped storing ripped CD's in the original jewel cases and migrated them Fleece Pack cases to save space (see below).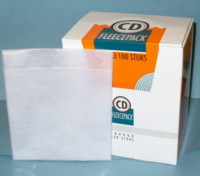 I just tried to order new supplies from https://www.covers33.co.uk/ only to find they are out of stock and they tell me that their Dutch supplier is no longer operating.
Having failed to find another supplier, with stock, I'm wondering if anyone can suggest a good alternative?
I like the Fleece Pack cases because they protect the disk and have space for the booklet and back cover.
The last box I ordered say "Fleecepack is the registered product owned by Smilin' Ears DV Holland". Do any Dutch members know if they are still trading/ manufacturing or available in Holland?
Thanks,
Dale