Another milestone for the Roon Labs team. The community forum has crossed the 20,000 member threshold. Congrats Roon. (20,024)
The next milestone for Roon users will be 100,000, so there are a lot of folks who don't join the Forum.
It was stated somewhere else that the community users are the minority and that there are already 100.000 users of Roon.
That would mean 80.000 users who never need support. Ah well lucky Roonies.
Forum membership just crossed twenty thousand (20K) when I posted this in January 2019. Pretty good growth spurt.
What actually is the growth spurt you speak of since the original post? I don't see any mention of it.
Seems to me, likely similar to many other 'user' forums…there are the regulars who come to share their experiences, talk music, (in this case scenario), and help where possible to those requesting support & ideas generally.
Then there's those who make up the bulk of that large number that perhaps are only heard from once in a while or even just once to get support and never return.
I'd say generally speaking the community (of regulars) is fairly robust & well-meaning, which of course speaks highly for Roon itself, which such users really enjoy and want to see develop further and grow accordingly.

Cheers ged…where do you see those stats? I just had a quick wander - nothing that I can find.
Oh - that was easy…never thought of that & never clicked on 'about' previously.
I need to become more of a risk-taker!!!

When I've been active on the forum and want to believe that it's really worth it, despite the tribulations of some of the scrapes users get themselves into, I click on Three bars, users…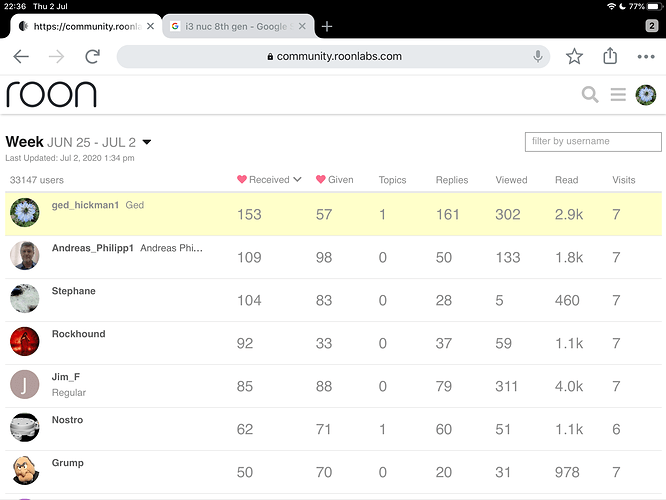 it was an old post being shared with @Jim_F
Trying to guess the number of forum users versus subscribers.
For all my reading seems I've been hiding under a rock. Note to self (as per above), take some risks & click on some 'buttons' not used previously.
What I can also read from those stats (I do like stats), is that the more one is active, the greater likelihood one will get flagged by a mod, especially using the 'T' word - tennis.
Sorry to say ged; as the most active this week, I believe you used the 'T' word.

@rrwwss52
Aaaah - thanks Robert…I'd certainly not have thought such a high uptake. However, it's a bit hard to read whether that a good thing or a sign of not such good things.
I'll err on the side of positivity!
I keep getting moderated lately. I'm getting grumpier in my dotage.
I dare not comment…however back onto topic an increase of 10k members in a year is wonderful.

And I have 3 racquets that have just left Heathrow yesterday via Cambridge. Can't wait for them to get here!
I hope there's some link between membership and racquets!