Content you're reporting an issue with
For some composers like Beethoven, the issue shows on the composer's view (screenshots below)
Have you made any edits to this content in Roon?
Titles of the albums edited
Is this content from local files, TIDAL, or Qobuz?
Local files
Screenshot of import settings
standard settings
Description of the issue
For some composers like, here Beethoven, the composer's page does not display all the albums associated with this composer.
Below is the screenshot of my "Albums" view with the filter : "Beethoven:Symph". We can see here all the albums whose title begins with the filter string and, in the first place, the Symphonies by Paul Kletzki (highlighted in red).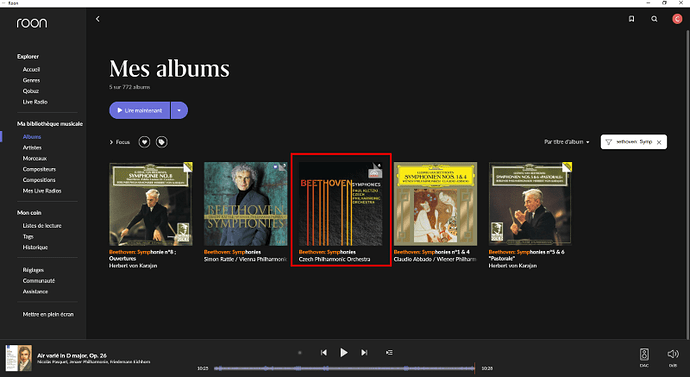 Now, let's move to Beethoven's composer page.
In order to be sure we land on the good page, let's click on the link to display the album's details then on the link labelled "Composed by Ludwig van Beethoven". We end on Beethoven's page and unfortunately, the album conducted by Kletzki is not displayed. No matter the sort criteria I use, this album remains invisible. Here is the part displaying the symphonies ordered by title :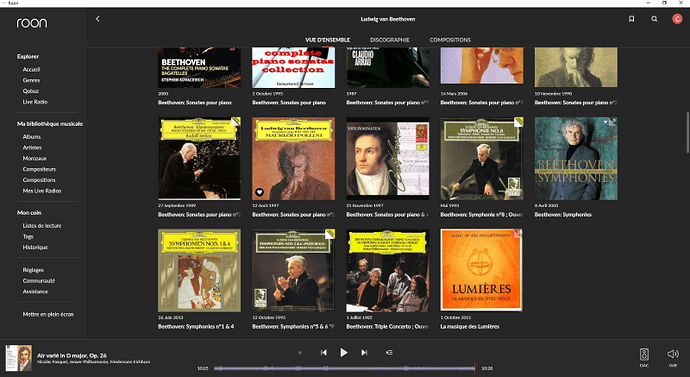 I don't kown if it is a metadate issue or juste a rendering issue of the view but it's pretty annoying and makes the composer page not very reliable.