One of the thing's I really like about roon is the way it uncovers links between different artists interpretations of favorite works. The problem is that as I have migrated more and more of my library to a roon friendly format I see a lot of inconsistencies in composition handling.
This is typical and happens a lot: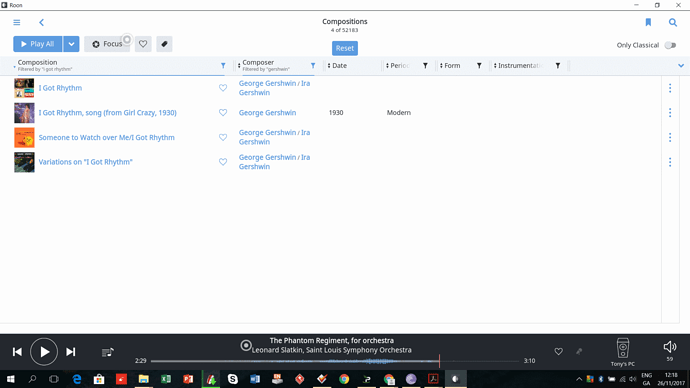 In this example, roon has found
a) 16 versions of Gershwin's "I got Rhythm"
b) 3 versions of "I got Rhythm, song (from Girl Crazy 1930)"
c) 1 version of "Variations on I got Rhythm"
d) 1 version of "Someone To Watch Over Me/I got Rhythm"
Although this "list" view provides an intuitive "fuzzy" aggregation of all these composition variations, most of the roon screens work on a different "focus" philosophy. To get the benefits of that, the compositions need to be "merged" so they group together on other screens. In this particular case it is b) that has all the composition info, so it makes sense to merge the compositions into that variation: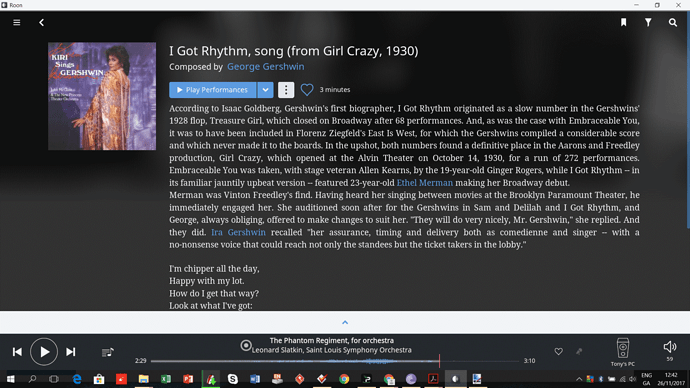 The problem is that roon is not allowing me to do that, unless I "normalise" all the spellings closer to b). In this case that will require 18 separate song edits. It is never clear to me how much I need to edit the title so I often just take the nuclear option of changing it completely to match roon. This happens extremely frequently with classical music where I find that adding an opus number is not usually enough and I have to hunt down a catalogue number which can end up being quite a paper chase.
There are a lot of problems with all this:
There seems to be a great deal of manual effort "grooming" roon to merge compositions. I wasn't expecting that.

It is not clear what the "matching" rules exactly are if you want to minimize the grooming effort.

Although variations by different artists are essentially the same composition I would still like to maintain alternative "spellings/descriptions" as well. This is very hit and miss. Sometimes it is possible to merge a composition whilst retaining alternative spellings/descriptions, but other times it is not and I cannot really see a pattern.
As an aside, this seems to be a similar problem to "artist merge" which is also very hit and miss. Addressing composition/artist merge would go a very long way to reducing the manual tagging effort needed to get the best out of roon.