Hi Everyone.
One of the fun things I like to do with Roon is to create my own tribute album. A tribute album is a classic album on which all the songs are cover versions by other bands. While there are several of these for Rock's classic albums, I like to make my own with Roon. This works best if you have a streaming service.
To do this, I am using one of the great features of Roon, the Compositions Icon on each track. If you are not familiar with this here is a screen pic. I circled it in Red.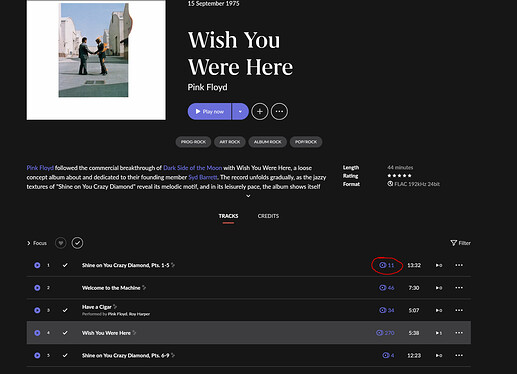 Clicking the icon brings you to the Composition page for that track, in this case, "Shine on you Crazy Diamond, Pts. 1-5) see. [Spoiler: in the end I chose the London Orion Orchestra's version of this song].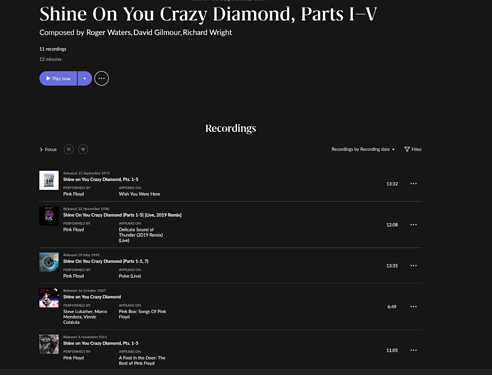 On this page, at the top you will see that there are 11 different recordings of this composition. Most are actually by Pink Floyd, but, since this is a tribute album, I want to focus on other artists. You can play these tracks right from this page to compare. Once I have found the track, I add it to a new Playlist I call Artist/Album Tribute, in this case "Pink Floyd's Wish You Were Here Tribute".
I then go back to the original album and do the same for each track. Sometimes I add a couple of versions of the same track to the spreadsheet to review later and decide which works better with the other chosen tracks, stylistically.
Final Playlist here: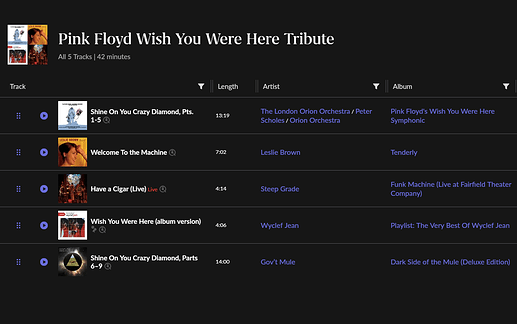 I have also exported a Soundiiz file and have it on my dropbox if you want to download it and use it to create this playlist in your Roon. It is based on Qobuz and I have not checked if all the options chosen are on Tidal.
Soundiiz here:
I hope you enjoy it and are inspired to create your own Tribute Albums. Post them up here so we can see. I will try and get a new one up a month.
Cheers,
Daniel aka Rugby