https://roonlabs.com/partner-dcs.html
As this is now official, time to talk to your dCS dealer about firmware!
And here's a preview!: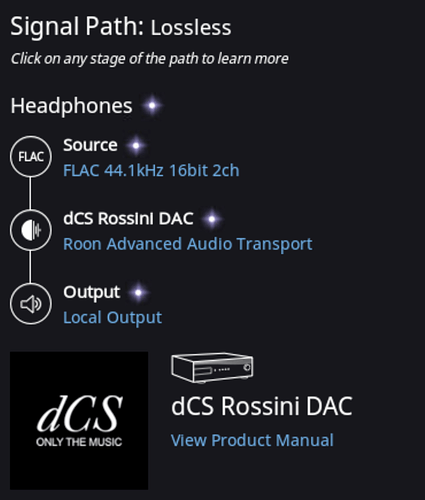 This page is not correct.
The Rossini DAC is also Roon Ready.
The Paganini is no streamer, only a DAC.
New product the Network Bridge is also Roon Ready.
dCS knows this and the update is there in a few days.
Not until @brian tests it, I think.
You should not show this screenshot.
Now you make me jealous, ha ha.
I cannot wait…
I did some beta testing: although Roon Ready has been announced officially I'm not sure that the firmware is already available.
No, but very soon, I heard.
Are you Roon-ing through your Rossini as an endpoint or is it just being seen/recognized by Roon on the network? Would I be correct in thinking that you can use Roon with the Rossini DAC now but you just can't control it using the DCS app while we wait for the update?
I'm not sure what you mean. If you are asking whether it is connected directly by USB, no, I am streaming to it over the LAN. I am using beta dCS firmware.
You can currently use USB or Airplay (with all the limitations that brings). With the Roon Ready LAN integration you can make the Rossini come out of standby, you can change the volume while streaming, and you can switch it back into standby at the end. (I am hoping for filter switching in a future version.) And of course you have the various quality advances of RAAT over Airplay and USB.
I have streamed 352kHz PCM and DSD64/DSF to the Rossini across the network using RAAT.
Got it. Sorry to be confusing but I am new and have been wondering about the best way to get my Rossini (DAC) up and running on ROON. I have been waiting for the app update before I signed up.
No problem! With the dCS USB driver you can already stream all formats by USB. If you need LAN integration just wait the short time before the dCS firmware is released then you can try Roon and dCS over LAN together before committing.
Exciting times indeed…

My Vivaldi Upsampler is in transit to dCS for the upgrade. Can't wait to have it as a standalone Roon endpoint.
Mine was done yesterday.
It is quite an extensive upgrade. The new board is dramtically miniaturised compare to the previous.
Sound will be better via usb and ethernet.
Integration is very slick, the new app is much better as well.
Sound is as expected from the best in the business:
Better than before as usual
A while back DCS told me end of year for the Rossini ROON endpoint firmware code update. Just received an email from John Quick at DCS Americas this morning letting me know that it could be delivered first week of November as long as the verification process goes smoothly but no latter that November 15 in any event. Fingers crossed.
I've been running various versions of the Roon ready firmware on the Rossini for the past 8 weeks or so and I can assure you that you're going to be pleased with the end result. It's been a long wait, but well worth it!
Hi, how can I get the beta software to test Roon on the Rossini, thanks
when can we get the roon to play on rossini, still waiting. thanks
See my response in the other thread. Some have access to the beta due to affiliation with dCS (in my case I'm a dealer), but dCS won't release it publicly.