Great that there are some DSP 'corrected' settings for Audeze headphones. How about some Sennheiser models ?
Hi, the Audeze setting were provided by Audeze. While asking Roon you need to ask Sennheiser as well as it is they who would provide the settings.
There are suggested profiles for many here

Is there a way to incorporate these settings automatically? Or do i put them in manually? Thanks
Apart from the Audeze presets, for other headphones you need to do it manually thought the Parametric EQ function within the DSP feature. It's fairly intuitive, once you have located a set of EQ filters you want to try.
Ironically I spent yesterday afternoon digging for EQ for my Sennheiser HD800
The reference that @ged_hickman1 shows above is very comprehensive and seems to be the HeadFi recommendations but alas manual. For example there are 5 EQ options for the HD800. The screens are a bit blurred unless its me but you can decipher the numbers
Apparently there is a Plug In for JRiver that automates this if you are that way inclined. I can't see the manual Roon route being more than a hour or so each and then of course you can tweak to suit yourself. You can save the EQ set within Roon but I am not sure you can download the data to share
Maybe a feature Request if I am keen enough.
Good luck, I'll be trying over the next day or so , so we can compare notes
I just put a bass shelf lift in as my daily driver. I've got a full eq set saved as well but found it didn't really work for me. I'm 60+ so probably the default bright sound of the 800 is a good thing

You can download the two convolution filter wav files for any of the settings on the site and use the convolution part of Roons DSP engine no need for manual setting of PEQ. You then just zip then up load up in Roon save as a DSP preset. Download the one for 44 1 and 48.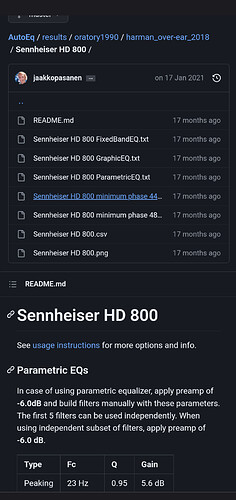 Takes a few minutes to sort it all out.