I am reporting a complete mix-up of metadata on the recently released album by Francesco Corti Handel—Winged Hands (Arcana, 2022-03-04).
This issue is with the album provisioned by Tidal. I have imported the album into Roon from Tidal, without any edits at this point.
The album on Tidal appears with out-of-order tracks, as so many albums recently. On new classical releases this is an ever more common problem. Normally, I can correct this rather easily in Roon, rearranging the track order. This time, though, Roon shows the album with the out-of-order tracks, but with the correct order of metadata (work and track titles). So now I would have to rearrange the tracks into the right order and then correct the track titles. Very tedious indeed!
Here some screenshots for illustration.
First, screenshots from Tidal App showing the tracks out of order. I of course will report this to Tidal: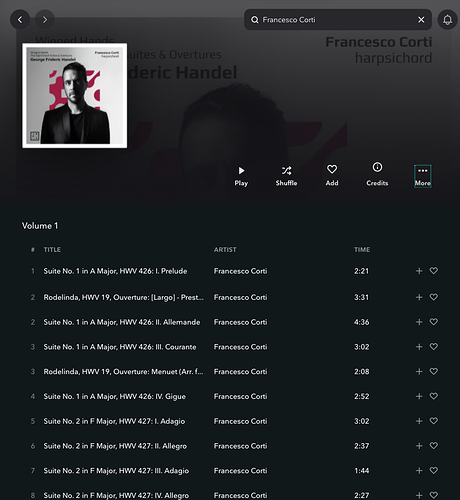 You can easily see how in Tidal the tracks are in disorder, but at least they show for every track the correct corresponding metadata.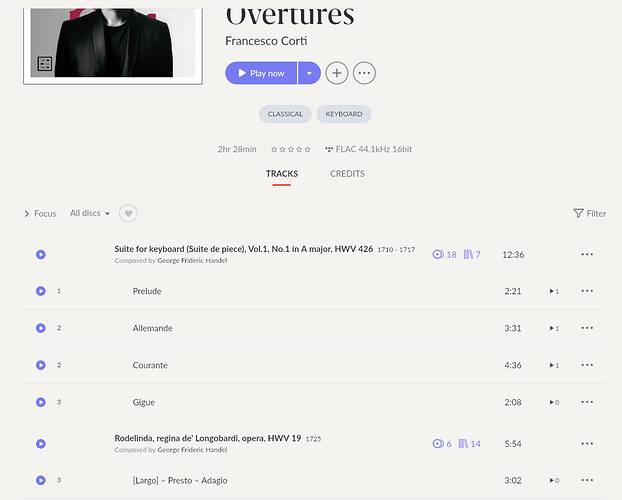 In Roon, the works are shown in the correct order with their corresponding tracks, but the tracks themselves do not correspond to the shown metadata. For example, tracks 2 is shown as second movement (Allemande, 3:31) of the First A Major Keyboard Suite, but if you compare with the Tidal App screenshot, you'll see that in fact this track corresponds to the Rodelinda Ouverture.
I have tried importing this album both with import settings for work and track titles set to 'Prefer Roon' and 'Prefer File'. The resulting mix-up in both cases is the same.
This is very annoying, as this really precludes enjoyment of this and other similarly affected albums.