Relisted due to buyer gone silent. This is the machine you go to when you outgrow your Raspberry Pis, better class of cable hell too.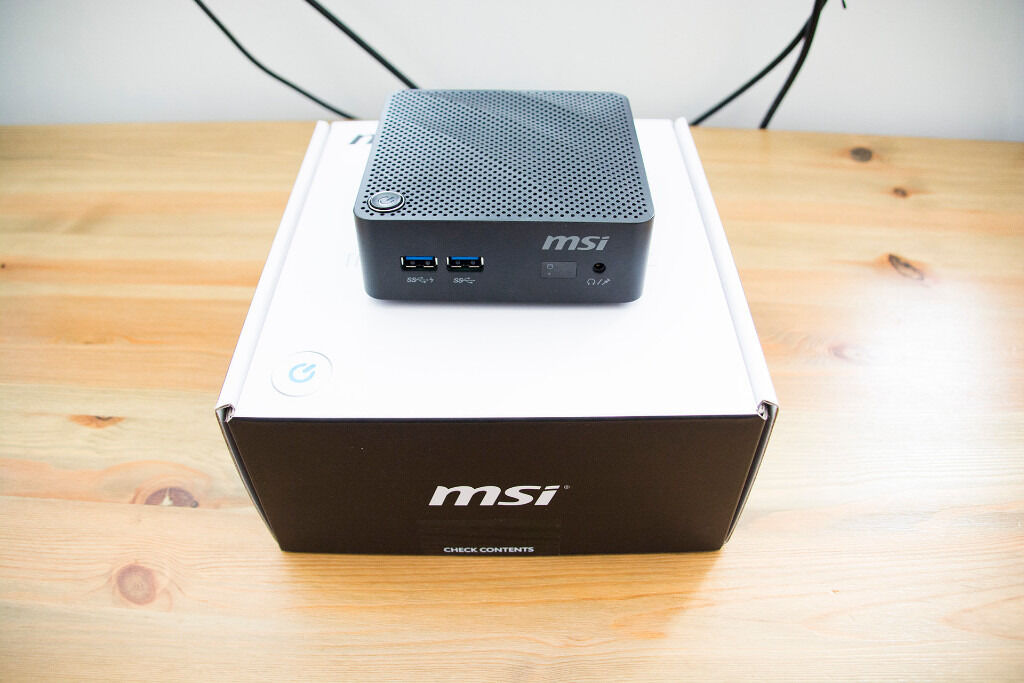 MSI Cubi-N Barebones PC (Intel Dual Core CPU, Integrated Intel HD Graphics, Integrated Gigabit Ethernet, Bluetooth and WiFi)
Samsung matched-pair 4GB DDR3L
128GB mSATA SSD mSATAIII 6GB/s Mini PCIE
Presently Running Ubuntu Linux 16.04LTE but no reason why it shouldn't run ROCK fine. It also runs Windows 10 fine (if you are into that sort of thing).
It's a totally silent fanless NUC measures just 12 x 6 x 12 cm and is 600g – as it is a Braswell Architecture machine it has a GPU needed for decoding the new generation of H.265 in 1080p and it even has 4K-video support if you want to install Drivers or Patch the Linux kernel. (I play these files using Kodi 17.3 without a hitch).
With supplied 4GB (forget what the website says a total of 16GB is addressable – i tried it) it runs concurrently Roonserver, BubbleUPNPserver and Kodi 17.3 in 1080p (it plays 4k videos at a reasonable 30fps too) and it works just fine managing a Roonserver database of 2000 CDs, serving 4 simultaneous endpoints (in my case thats 3 x WiFi endpoints and 1 x Gigabit connected Devialet). Used like this, it has enough grunt to output Hires files (like 24/192 and MQA) without clicks, pops or processor saturation effects. Connection is via recommended Wired Ethernet. Wireless is built in but I've only used it in earnest using wired. The fitted Bluetooth and Wireless card has been tested and works just fine under Win 10 and Ubuntu Desktop.
Specs are here https://www.msi.com/Desktop/Cubi-N.html
MSI Cube N Celeron 3710 1.6GHz Dual Core
4GB RAM
128GB M.2 SSD Boots Linux and holds the Roon and Kodi/PlexVideo Databases
There are 4 x USB 3.0 ports for external drives (one is also a high current charge for fast charging devices) and room for an internal 2.5" SATA drive SSD or HDD with the supplied hard drive tray addon. Sound out is via USB or headphone jack. It supports infrared remote control. It also supports dual displays. 1 x HDMI and 1 x VGA.
All in all a stellar little silent NUC PC that frankly, its not a powerhouse but it has the extra graphics/GPU power making it an ideal silent media center or Roon server. For the life of me, I want to keep it but its just doing nothing other than acting as a chromeprint printer server and plex media and bubbleupnpserver (and one of my WiFi headphone stands can do that!),
Let me know if you'd like the 128GB SSD wiped or as-is for your setup…
Its boxed and complete and ready. I'd like £220 obo shipped for free in the UK - too much? Punt me a sensible offer.
Tallying up parts assembled you're saving ~£60 plus time and effort. It was bought online via various resellers: Box, Amazon and ebay. The MSI was bought from Box here as barebones for £165, the 128GB SSD was £95 here on Amazon and RAM was a further £20 from my usual cheapest-but-not-skanky RAM reseller on eBay.