EDIT: price reduction to $3500 to reflect the current audio resale market.
Audiophiles only please. Keep conversation purely on topic. If you are happy with the sound from your roon to your phone to bluetooth speaker or anything like that, that's great. Please keep it to yourself. This is not the place for saying so… also, with an approximate shipping weight including the cartons nearing 300 lbs., this has been marked as US-only. Please take that as the 48 contiguous states for the sake of cost.
---
Has anyone been lusting after the ultimate in amplification like a pair of fantastic Audio Research Classic 150 monoblocks? I decided to sell mine. (The two monster amps sitting on the floor in the picture. Note, ONLY the two 4U amps on the floor to either side of the equipment rack are being offered for sale here.)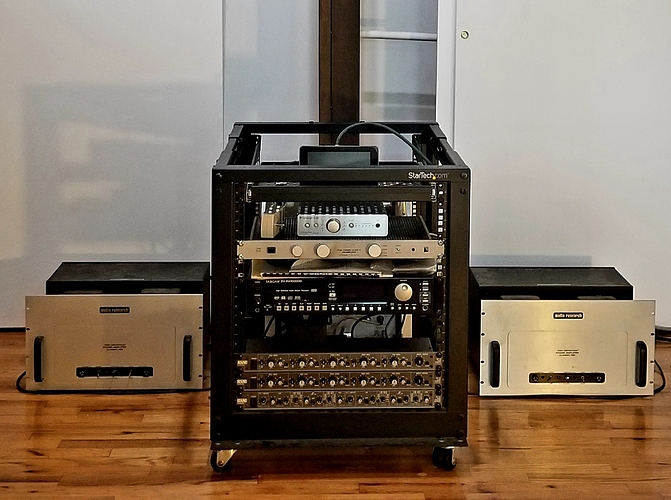 Uses 8x 6550 powertube valves per monoblock, running in Triode mode, weighing 110 lbs each [!!!].
They are totally under utilized as I'm using them now. As bass amps in a tri-amped system. It has glorious reproduction from the valves thru the audio range. And it's going to waste. So I decided it is time to sell them. Asking price is $3500.
IF you are anywhere near Long Island you are invited to come listen to them in my home. (Tho I do require public information about you. And require taking a picture of you and the vehicle licence plate that you arrive in that will be shared to the cloud before you are given entry to my home). If your speakers you know and love and plan to use with this are not prohibitively heavy, you are welcome to bring them to my home. At present, they are driving only bass speakers of a full range system. To get the full effect, I have legacy Tannoy 8" monitors or Klipsch Heresy speakers that have crossovers in them for full range use that can be used to audition them. (I have Klipsch LaScalas too, but they are so big they may not be able to be moved up one floor into the room where the amps are, lol. )
They are in near pristine condition. If I say I used it 100 hrs the last two decades, I'm probably over estimating. Meaning, there aren't a lot of hours on the tubes.
I'm the 2nd owner. First owner was a very wealthy repeat customer & benefactor of Stereo Exchange in NYC. He purchased them. Didn't like that the fan could not be completely turned off (He listened to a lot of chamber music at.low levels). And soon turned them back in to the store for resale. I listen to everything but Chamber music at low levels (lol), so I never hear the fans which are super quiet to begin with. I paid $5500 for the pair in the mid to late 90's (was $11,000 new). That is the basis for my asking price.
Local Pickup Preferred. I -DO- have the original boxes which will do a phenomenal job protecting them in transport. Even though you are doing local pickup, I do want to get rid of the boxes so require that you take them.
If shipped, PayPal or in-person proxy payment required up front. Buyer will pay full trucking cost and make arrangements with a shipping firm to pick it up from me and deliver to you. Estimate 300 lbs shipping weight.
Attached here is a photo of them as normal in my listening room. The link contains pictures of its internals, top and bottom:
Serious buyers only please. Both in discussions here or audition in my home.
Thank you for your consideration.
Steve