Can I use Roon,
though samsung note8, with Audioquest dragonfly cobalt?
"### ANDROID RELATED
Can I use DragonFly with Android devices?
Yes. DragonFly Black, Red, and Cobalt will work with most Android devices running on Lollipop OS (and some Android devices running on KitKat), provided that the device manufacturer has adhered to the USB specification and implementation, and supports audio over USB.
To verify that your Android device complies with isochronous USB audio, download and run USB Host Check.
In our early pre-production testing, we found that some Android devices (4.1 OS and newer) do not provide native support for audio over USB. If you find that your Android device (4.1 or newer) does not support audio over USB, we ask that you please contact the manufacturer of your device. To determine whether your device supports audio over USB, consult the user manual or visit the manufacturer's website.
Despite Android's support of USB audio output, there are still hardware manufacturers that do not completely adhere to the USB audio class specification. If you experience this, we recommend the USB Audio Player Pro application.
UAPP includes its own USB audio device driver that is compliant with the USB Organization's USB Audio Host Mode Class specification. Further, it is compatible with various audio formats and will manage music on both the Android's internal memory and inserted SD cards. With the phone connected to the Wi-Fi network, this application can also find and connect to DLNA servers/libraries. USB Audio Player PRO Version 5 now supports audio from Google Music, Tidal (including Tidal Masters), Qobuz, and Shoutcast, and includes an MQA Core Decoder, which will unfold MQA streams from 44.1/48kHz to 88.2/96 kHz and can be combined with DragonFly for further unfolding of even higher sample rates."
Roon won't recognise the DAC using an OTC cable, so you'll need to use the phone as the default audio device. In practice, output is via your external DAC, but typically this is resampled to 48kHz 16bit regardless of source material. IIRC my Samsung resamples to 192kHz–you can try different settings in Device Setup, but you're not going to have bit perfect output to the DAC.
I have been emailing AudioQuest respects using my DragonFly Black 1.5 with my Galaxy S8+ phone. With this setup Roon won't / can't output MQA files to the DragonFly. The only way to get MQA files to play properly with the DragonFly / Android combination is to abandon Roon an use the UAPP app.

Android does not support USB DACs well you need to use apps like UAPP or Neutron to get exclusive control of the DAC as they have there own drivers and provide bit perfect playback. Roon only uses the OS decide on things and will resample to Androids native sample rate for your device usually 48/24 but it can vary. It does not use special drivers to bypass the os native src so it does not see the DAC and does not output bit perfect . That's how it is on Android. Not even Tidal or Qobuz apps output bit perfect either on Android. If you want MQA on your phone use UAPP.
Understood and thank you for the response. Hardly a deal breaker but disappointing.
It's very disappointing in deed.
I have an iPod as well. Any idea if, with the correct lead, if the Roon, iPod, DragonFly, MQA combination will work?
Yes, this will work with an iPad. You'll need to buy the Apple Camera Adaptor or similar aftermarket cable.
NB. DragonFly 1.2 or or earlier models do not work with iOS devices.
I don't know about iPod, but Roon works with an iPad or iPhone and Dragonfly Cobalt as a Roon end-point. Get the camera adapter that has an input for your charger as well as USB.
As long has you have the latest software update both the Red and the Black support MQA
Re. the iPod Touch, it needs to be the 64bit version to run Roon. I think that's 6th generation onward.
Which iPod , there are many versions over the years !!
The older Hard Drive versions , 40/80/160 Classic etc will NOT work as the camera kit required Lightening & IOS to work,( but the DAC's in these were remarkably good ), I still use one in the car and standalone with Bose QC25 when I travel.
The iOS Touch versions should be OK
I use a IPad Mini Version 2, with the Apple Camera Kit , Dragonfly Red with no issues
As Martin says as the older versions won't work as they exceed the current draw defined by Apple (100 ma I think). Audioquest managed to reduce the current requirement in the newer versions Red, Black and Cobalt.
However beware they do have a tendency to chew batteries. As JimF says there is a camera kit with a Dual access, USB and a Lightening charging port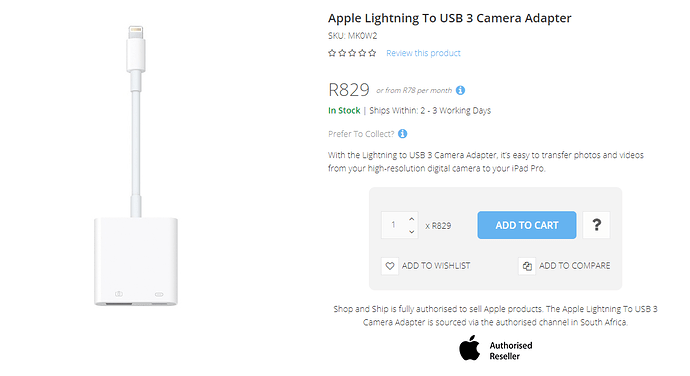 I am sure Amazon will oblige depending where you are
Many thanks - I have one of the newer ipod touch so I should be fine.