Thanks to recent developements in my understanding of the capabilities of Roon, I thought it might be interesting if we could share our methodology as regards using Roon to maximum effect. We can perhaps guide each other to improving our workflows, and give us each fresh ideas and perspectives on how we can use Roon better and ultimately to enjoy music more!
Here's mine

…
Backstory…
I, like many here, am a person of a certain age and have acquired a stupidly large collection of digital music, around 10000 albums, which seems impossible, frankly, to assimilate and I am sure I am not alone in the sense that I constantly go back to the music I know and only listen ephemerally to new stuff. The "old stuff" (perhaps 10% of the collection) gets played perhaps 80% of the time and new stuff may get ingested and forgotten almost instantly. There's been a nagging sense of unfulfilment for quite some time, of lost opportunity.
I signed up to Roon in Feb 2017 and have until now been using it in it's unmodified form; ie I've not invested any time tailoring it to my own needs. The main reason has been because I run Roon on multiple devices, switching cores depending on location or availability of PC. I have a main desktop, a laptop and a hybrid, all of which act as cores at different moments. Thus my perception was that I would have to update each core with any modifications I made to each setup which, besides meaning 3x the work would quickly become a tracking nightmare to remember to update and what.
In the last week or so I started messing about with backups and restoring and to my uparalleled excitement I found out that I could restore backups quite easily to any core device. In addition with further experimentation I found that I could use identical backups of the music itself at each location for Roon to access using the restored databases from the "master setup" of the main PC.
Catalysed by that revelation, I could start to really delve into tailoring Roon to become something really fabulous for my needs.
I've realised now with judicious use of Tags, Bookmarks, and shuffle plays I can slowly evolve my musical knowledge and dig deeper into my collection in a much more satisfying, gradual way, which is not overwhelming, but wholly fulfilling and exciting. Over the last few days I've had a bit of an epiphany. Roon has all the tools to evolve my listening into new areas but in a natural way without overwhelming me with new music…
I started out by making my own tags for genres…going through the early stuff in my collection, the stuff I really know well and made genres for each album, trying to keep it quite tight, not too sprawling
ROCK - HEAVY,
BLUES - ELECTRIC,
NEW AGE
AMBIENT
JAZZ - BOP
JAZZ - CONTEMPORARY
CLASSICAL - ORCHESTRAL
And so I have now about 50 or so Tags(genres) for the first 600 or so albums in my collection.
I Tag albums and artists with the relevant tags.
Also I am tagging all good tracks within an album under genre so I have all good Blues Electric Tracks or all good Folk Rock Tracks, etc at easy reach for instant playlist by genre.
In addition I am Favouriting all good tracks so I can easily modify tags later en masse using the Tracks view if needed. So for example if i want to add a new Genre Tag, say Rock Guitar - to highlight all albums by guitar rock heros only, then I can scan through albums or artists, highlight them, add them to the new tag Rock Guitar view that tag in track view so it brings up ALL the tracks from those guys, then filter by favourites only then select all and add them to a new tag, Rock Guitar Tracks; which will then only show all my FAVOURITE rock guitar hero tracks. Heady stuff. It takes seconds to do , but is hugely powerful!
I am using bookmarks to group Tags together, eg a general bookmark Rock or Blues then display all the Tags within that genre to burrow deeper into a genre. (thanks @James_I for this idea

)
Here's a snapshot of some of my Tags and Bookmarks to give an idea…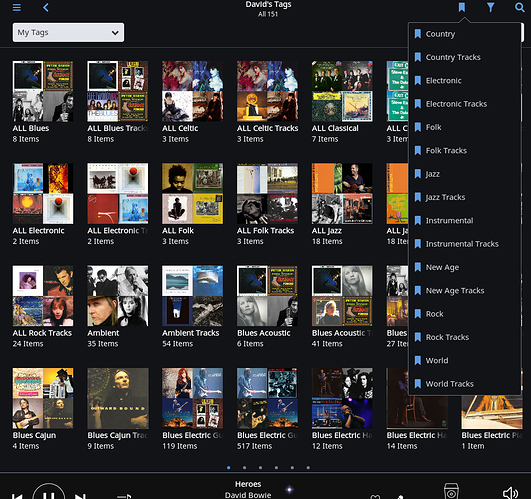 And of a bookmarked tag group…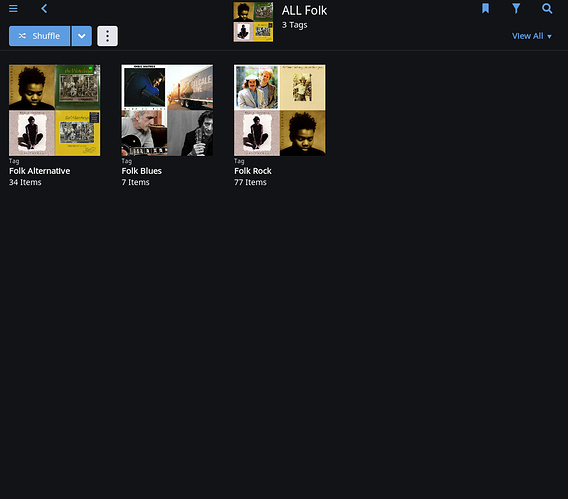 The interesting thing about customising my own tags gradually is that once I had done a couple of hundred albums I started to listen to the Tag/Genres, using shuffle of the contents of the Tag and was delighted to start to hear, not only the tracks from the albums I know well but also albums from artists I'd tagged which were embedded deep in my collection.
Thus by slowing adding tagging more and more artists and albums, I open up new possibilities for learning about existing and new artists at my own pace. New tracks and albums of familiar or new artists can now be tagged as "NEW" and revisited easily.
One last thing, I am using the EXPORT feature quite a lot now to make tailored sd cards for my music player for fun selections on the go. Eg for the example of the ROCK GUITAR genre i virtually created above, select the tag, Rock Guitar Tracks, highlight all tracks in the tag, select EXPORT and away I go.
Brilliant stuff…
Roon is more powerful than I ever imagined. The possibilities are huge!
Let's hear your story?