These are all the same:
source @Tivo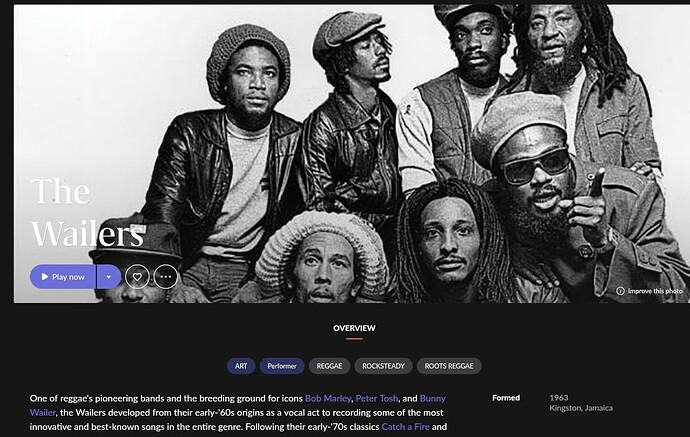 source @italian wikipedia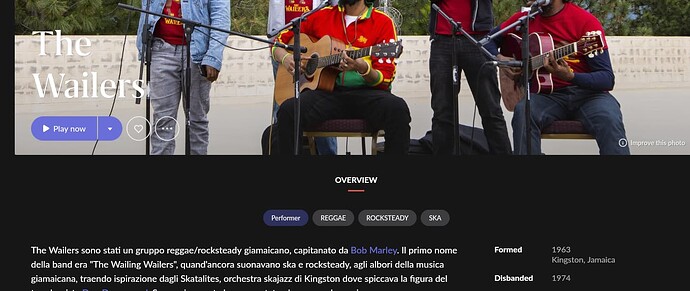 Source @Tivo, @english wikipedia, @italian wikipedia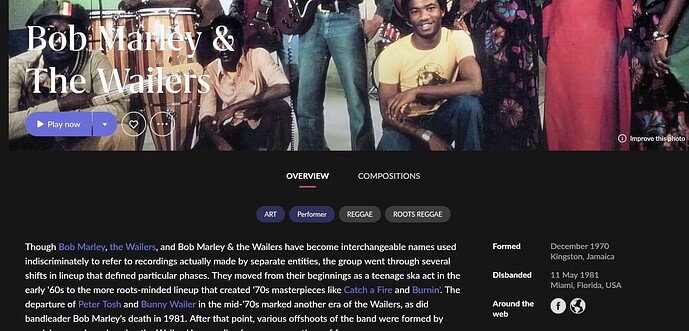 Interesting.
The first Wailers screenshot with the black and white photo has a TiVo bio, a formed date 1963, and no disbanded date.
The second Wailers with the color photo has a Wiki bio (Spanish, German, Portuguese, Italian, French, for me; no English) and formed 1963, disbanded 1974
Bob Marley & The Wailers has TiVo and Wiki bios in English, Spanish, Italian, Portuguese, but not German and French. 1963 to 1981
Seems like several issues:
Sources disagree whether the TW and BM&TW are the same band
Some end TW in 1974 when it turns into BM&TW for commercial reasons and under internal stress. Some don't. IMHO both are arguable.
Sources also disagree which name should be used for the lexical entry.
Complex enough, but Roon's inability to deal well with artist aliases compounds the issue as it can't properly represent either choice without hiding some of the information
Considering that many other reggae artists played with The Wailers, using the same "&" form, may support calling them The Wailers: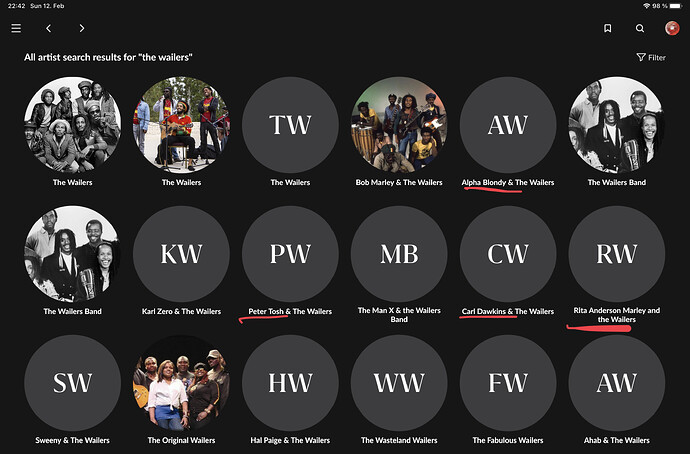 Turns out there is also The Wailers Band, which are the Wailers after Marley. And The Original Wailers, which are ex-Wailers band members and I suppose sufficiently far removed to be their own band. They both exist twice with the same band photo, once with and once without a bio.
This is all very complicated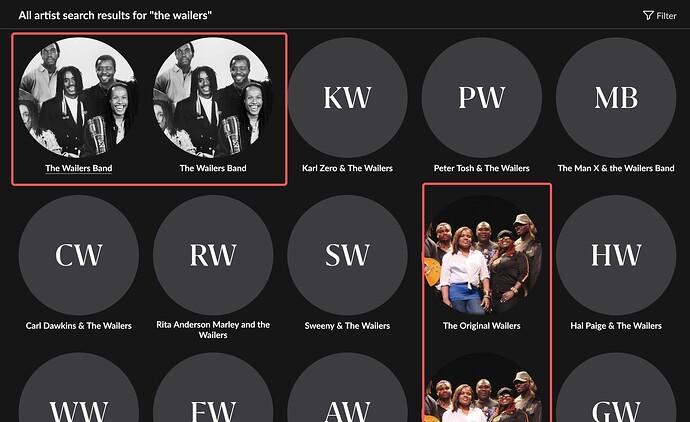 Found this in my library. A bit ridiculous:
Now, these are the primary artist links for this album - I seem to have added the second Wailers at some point but have no recollection of this. I am not such a specialist that I would have been even aware:
The interesting thing is that the default Wailers in Roon's primary artist links (first row) point to these Wailers which have no TiVo and no English Wiki entry:
This is the German Wiki page
and it's the main and only German page - BM & TW redirects to it:

The other Wailers link that is in the second row as a user edit (for whatever reason) points to the Wailers page with the TiVo entry:

There is clearly something wrong here and somehow it seems to relate to the Wiki entries