The title of my 10 CD box set is:
Fritz Reiner Milestones of a Legendary Conductor The Chicago Symphony Orchestra.
Unfortunately, there is no metadata, no title, no cover art, no track information, nothing to guide me in attaching the appropriate metadata.
To keep it together as a set, It would be easy to title them all as above and then add CD 1 of 10, CD 2 of 10, etc to each title. However that leaves the actual contents of each CD completely undocumented.
I could label each track with a lengthy documentation of Composer; Composition, and then add the unique track content and I assume it would be searchable by Composer (am I right about that?).
It would look like this in Naim (I use the Naim Uniti Core to rip my CDs and then transfer to Roon)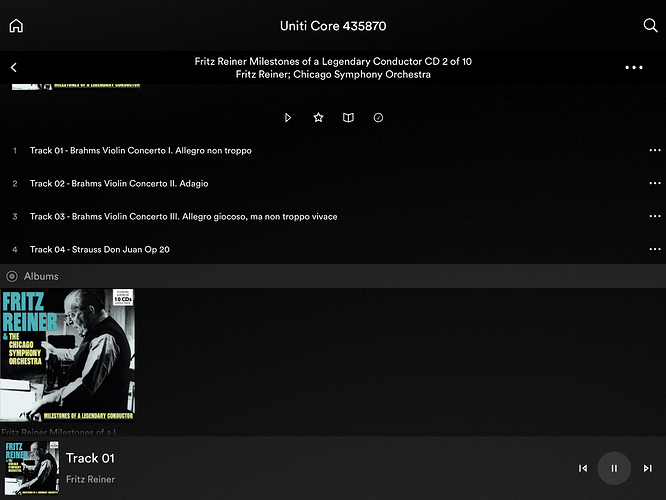 Or I could abandon the idea of keeping the compilation together as a box set and title each CD as though I had bought it individually. Then the title would be Brahms: Violin Concerto; Strauss: Don Juan and it would look like this (again, ripped and metadata added in Naim before being transferred to Roon)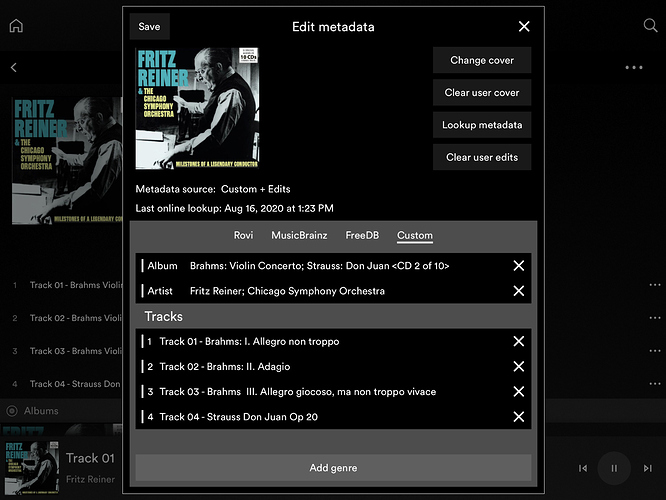 But I hate to lose track of the fact that it's a 10 CD unit.
What would others do in this situation?