Updates to i7-7700 chip now and all good.
My desktop (ASUS GD30CI) uses an i7-7700, and the BIOS says it's at roughly 55C when doing not much. So I'm interested in how well the Steacom does with passive cooling in the role of an HTPC.
I can't feel much heat difference from the i5-6500 that was in there before that has the same tdp profile of 65w
The PCs based on Streacom aren't cheap. I priced a setup at EndPCNoise.com, with the Streacom FC10 Alpha: FC10 Alpha (with its heat distribution), $1369; ASUS Z270-A (1151/Kaby Lake) motherboard, +$30; i7-7700 CPU (Kaby Lake, 3.6 GHz, 65W), +$344; 8GB Kingston DDR4 2133 RAM, included in base price; External Pico PSU (fanless, 150W), included in base price; Ubuntu Linux LTS (x64), -$100 (that's "minus," as in reduced from the base price); Samsung 960 EVO M.2 NVMe 500GB SSD for OS, $195; no additional storage (see next paragraph); no optical drive, -$65 (again, that's "minus"). Total: $1773.
Samsung 850 EVO 1TB SSD, $349.99 at Amazon (versus same for $415 at EndPCNoise.com).
Total: $2122.99. Before tax and shipping.
The above would be a dandy HTPC for Roon. But it's more than the $2000 of the Roon Nucleus+ (although technical details of the latter, especially the power supply, haven't been fully announced). And it's somewhat more than the ASUS GD30CI (which too has an i7-7700, but with 32GB RAM) that I use as my main desktop and that runs pretty quiet (no fan noise so far).
So the Roon Nucleus+ is more attractive than I thought before.
Fanless cases certainly are not cheap, stream is just one of a few that are workable and good looking. I picked mine up as some bits that someone else ordered and didn't use so the hit was slightly less than the hassle of importing on my own - no dealer here where I live. It also came with the external power supply and DC-DC power board for inside. its a very solid build - worth it IMHO.
Nucleus has the advantage I guess of some economy of scale if RoonLabs has had custom chassis designed and a decent run on units ordered - I might even look at it for a core down the road too if the power supply area is really good.
For now the NUC option is on hold - but I did find a local supplier (who I use for client projects) that can do the 7i7 NUC for ~US$530 which is much better than the original list of ~US$640 at another shop here but the $489 price I also need to add shipping and 7% tax on top of that so its not as painful as I had first thought. In fact at the $530 price point its actually on a par with US$40 for shipping consideration.
My configuration:
Motherboard: ASUS ROG STRIX H370-F
Processor: Intel Core i5-8600T
RAM: DDR4-2666 16GB
OS: Samsung 970 Evo NVME 250GB
Data: Samsung 970 Evo NVME 1000GB
Backup: Samsung microSDHC 64GB
Case: HDPLEX H5 with HDPLEX 400W HiFi DC-ATX
AC Adapter: 19,5V DC 6,7A
Software: ROCK
Roon Ready: Devialet Expert 210 Pro (192kHz/24Bit) or USB: Devialet Expert 210 Pro (192kHz/32Bit)
Power consumption: 0,5W (off), 16,5W (on)
It worked out cheaper for me to just buy this all ready built custom pc.
Its product range tops out at i7-7500U dual core, instead of the newer and higher performance quad core CPU one may find in NUC8i7BEH. It does not look like it's using an NUC motherboard as its port layout and the voltage are different, so its ROCK compatibility needs to be determined. If you try to install ROCK on it, please let us know how well it goes.
No it's not a NuC but It works perfectly fine no issues what so ever had it for 6 months and suits my needs perfectly it's exceptionally well built, the case is custom milled at their own facility and their service cannot be faulted and offers great vfm. It might not give the bang of the newer i8 series but do we really need that much grunt. I run 8 endpoints and no issues and a medium sized library.
Hello Friend
Do you set this PC to works by WiFi? I made similar computer, but wire crossing all room are not accepted by my wife.


Greg
With ROCK? It looks nice.
Yep with ROCK. It is nice machine not too big either. Really well made and solid.
Hello!
I just built myself a fan-less computer for use just with Windows 10 and Roon Core. Its working great, and Roon has never sounded so good:) Reason I went with the HDPLEX H5 Chassi, is because I wanted to have a chase that is kinda the same size as my current Naim system. And yes, it may be overkill:)
My configuration:
Motherboard: ASUS ROG STRIX Z390-I GAMING, S-1151 (mini-ITX)
Processor: Intel Core i7-8700 Prosessor
RAM: HyperX Fury DDR4 3200MHz 16GB
OS: Samsung 970 EVO Plus 250GB SSD M.2
Data: Samsung 970 EVO Plus 1TB SSD M.2
Case: HDPLEX 2nd Gen H5 Fanless Chassis
PSU: Sea Sonic PRIME Fanless 600watt 80 PLUS Titanium
Software: Windows 10 and only Roon Core
Power consumption: Around 25W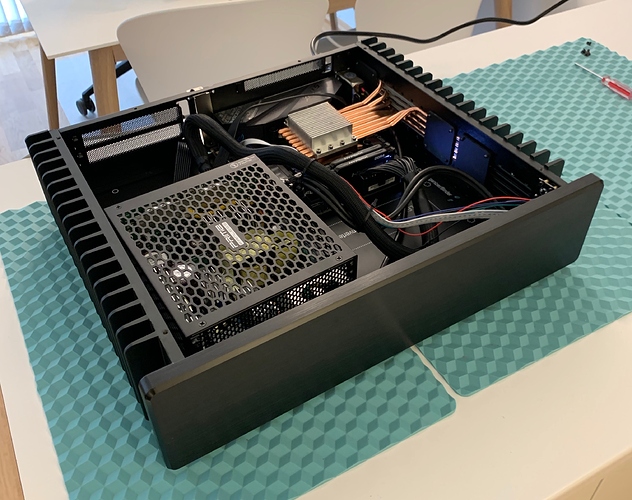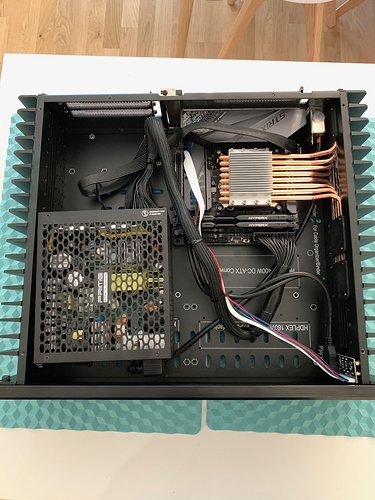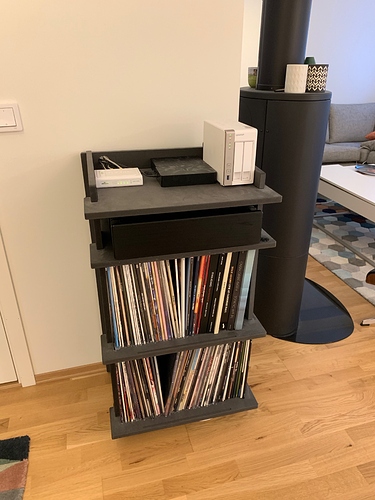 I opted for the 160 watt option of the following.
https://www.quietpc.com/st-nano-psus?product=3952
The advantage is that the 12 volt brick that accompanies it can be replaced with a linear PSU which isn't always considered a necessity but it at least offers the option.
Wow, 25 watts. Is that what you measure pulling from the wall on average?
I am trying to build an efficient pc for light gaming in my off grid house so I want to max my performance per watt.
Does this sound good or bad to you? I'm not sure of the implied Wow factor

This is average idle, when i use Roon, it goes from 25-29w
Before HD-Plex, Cirrus7 and Tranquil PC there was also Hush Technologies (a German company) who made fanless mini-itx based silent PC's. They were super expensive at the time and were mostly used in professional audio applications. These were very well designed and built fanless cases and can now often be picked up cheaply on your favourite auction site. These cases used with a suitable recent mini-itx board can be a great budget option for running either linux, windows or rock based music servers.
While not diy you can get some pretty nice powerful systems like this option build to order. I don't know if it will run rock tho but Linux or windows no issue