Is there a way to set up HQ Player with Roon Server? So far I haven't managed.
I have a Pinkfaun streamer running Audiolinux with Roon & HQPlayer installed.
The following screenshots show how it is setup on my system
Most important is to add HQPlayer and enter 'localhost' as the address
Then you can setup the Device

Last but not least, do not forget to select HQPlayer as your Audiozone

You also need to configure your DAC (interface) in HQplayer. (In my case yo will see the name of the USB interface, as I am using a not-official Linux driver for my T+A 8 DSD dac).
Hope this helps you in the right direction
Dirk
Thanks, Dirk, for your help!
I had HQPlayer set to 'localhost', set the HQPlayer Device, and had it set as an audio zone (see attached screen shots).
I am unable set the DAC interface. I see you have HQPlayer Embedded. Do you need this rather than HQPlayer Desktop to set the DAC parameters?
Now that I am certain to have most of the parameters set properly, I try to run it on Roon Server (runs in the background!).
Thanks again!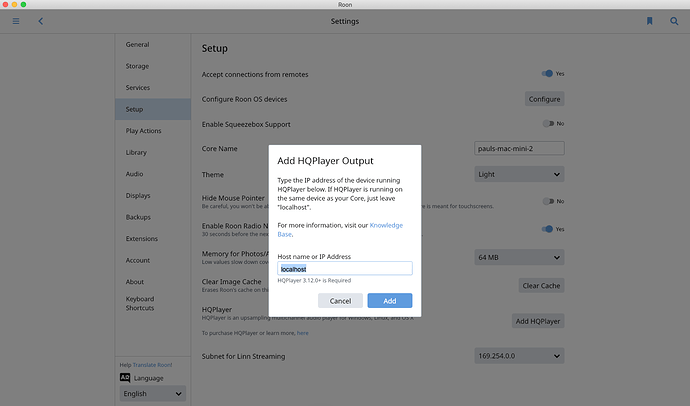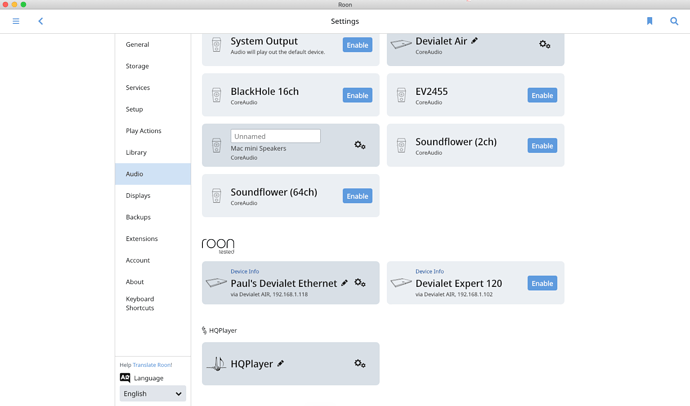 Do you have HQPlayer and Roon Server on same PC
I have HQPlayer 3, not the most recent version.
Hi Paul
I assume you are using a Windows PC (or a MAC).
Sorry if this is a stupid question, but is HQPlayer playing music on its own?
To configure HQplayer Desktop you need to install both HQPLayer Desktop (for configuration purposes)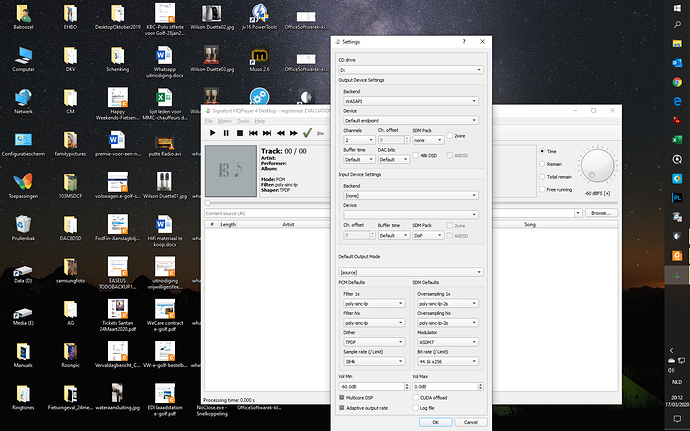 and eventually HQPlayer Client (if you want to use HQPlayer as your music player.
You want to make use of Roon of course, but for testing I would recommend to see if you get this running.
If that is all OK, than you will need help of Roon support.
Dirk
Yes! I have Roon Core, Roon Server and HQPlayer on the same Mac Mini. Naturally, I only run ohne at a time (Core/Server) with HQPlayer.
So it is working with Roon Core then?
Thanks Dirk, for the advice!
I run Roon/HQPlayer on Mac Mini 2018.
Good suggestion of playing directly from HQPlayer. The thing is that I have no problem in combining HQPlayer with Roon Core. When I do the same with Roon Server, I get somewhat confusing IP numbers to Play HQPlayer to. But I'll get there, with the good suggestions from this forum.
Why do you have roon core and server.Use one or the other on your mac mini.
Working perfectly fine with Roon Core!
Don't know

I started to use Roon Server because it runs perfectly in the background, leaving the display free for other things. But you're right, it's certainly redundant using two systems.
if your using say a ipad to control roon run roon server.If using your mac mini to control roon then install roon and control from mini
Paul
You are probably aware that HQplayer can be linked to only one external software
An HQPlayer instance can only be controlled by one external piece of software at a time. This is an HQPlayer limitation. If you attempt to initiate control from another piece of software, Roon will lose control of HQPlayer.
Maybe you can try the follwong (don not know if it will help, but it should not hurt either):
In Roon Core, disconnect HQPlayer completely (and select another Audio zone) (take screenshots of all configuration screens!)
In Roon server disconnect HQPlayer completely
Shutdown your Mac completely (power down)
Start Roonserver, and (re-)connect HQplayer, using the same config as you have been using in Roon Core.
Give it a go. Maybe, just maybe this will work.
Dirk
Sorry, Jason, I don'tquite follow. Say, I have Roon Core running on my Mac Mini, I use my Pad as a remote to control Roon.
Same thing is with Roon Server: I need my iPad to control the server.
Do I misunderstand something?
Dirk,
can you explain what you mean by HQPlayer being controlled only by one external piece of software?
Sorry for the dumb questions!
The Roon application comprises of; Server , Audio Endpoint and Graphical User Interface. Roon Server is the headless version, it does not have a GUI at all and must be control using a Roon Remote application.
So, an iPad is no Roon Remote?