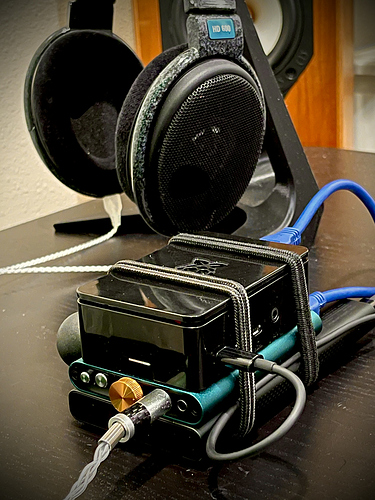 Another pandemic-boredom project… a portable home headphone listening station with the following parts:
iFi Hip DAC - Supports MQA, DSD256 and 384kHz PCM audio… and also has the newer 4.4mm balanced headphone output. I love this DAC, especially for the cost and the "x-bass" (aka loudness) button is a guilty pleasure that helps with the Senn HD-600s.
Raspberry Pi 4b running RoPieee "Roon Bridge" software. One of 3 RoPieee endpoints in my home but this one is powered by a battery so I can take it with me anywhere within WiFi distance at home to enjoy my headphone music listening
ZMI Ambi 10000mAh Dual USB C UPS Power Bank to power the RPi and it can also recharge the iFi ZenDAC too if needed. Passthrough charging allows me to have the entire system plugged in for normal use when near a wall plug so it charges the battery pack while the battery powers the Raspberry Pi.
TOTAL COST: ~ $230
I love Roon. Integrated with Tidal HiFi and some files I have locally, it's really reignited my love of music. Originally, because the iFi DAC supported MQA, I was listening to MQA files… and I liked them despite all the drama around the format. But recently, I think due to an iFi DAC limitation with the "first unfold or render", I noticed that true gapless playback wasn't possible for MQA files. FLAC, MP3 and DSD files would all play gapless (and even crossfade) fine but MQA files wouldn't. As I was listening to a lot of classical and live albums, this was annoying to I turned off MQA to fix that limitation but then came across "upsampling".
So since I didn't want to listen to MQA with gaps, I figured I would play around with upsampling. I can't honestly say it's blown me away or anything but as a nerd, I will admit I do like taking advantage of iFi's DSD256 capability, paired with Roon's awesome DSP capability to upsample to DSD256. So all my tracks now are upsampled to DSD256 (aka 11.290MHz) and my Roon Core (an older Mac Mini) is able to resample and perform other DSP features like Convolution Filters and headphone crossfeed without breaking a sweat.
I'm really digging this setup and having it all controlled by one single interface is awesome. I use my iPhone as the "remote" for Roon and this portable setup is terrific. I originally started with the headphone station being an iPad mini to HipDAC but it was a bit unwieldy so I went the Raspberry Pi route.
Just wanted to share… comments welcome… just not about MQA drama please.