Hello.
Is the IMPORTDATE tag still supported? It should be according to the tagging best practices page.
I've imported an album which I have the Tidal version for a while. I've set the tag as specified in the link:
~\Downloads\WIP ❯ metaflac.exe --export-tags-to - '.\01 - Bach, J S - Suite No. 1 In G Major BWV 1007 - Prelude.flac'
encoder=Lavf55.40.100
ALBUM=Bach, J S: Cello Suites Nos. 1-6, BWV1007-1012
TITLE=Suite No. 1 In G Major BWV 1007: Prélude
ARTIST=Phoebe Carrai
ALBUMARTIST=Phoebe Carrai
COMPOSER=Johann Sebastian Bach
COPYRIGHT=2006 AVIE Records
ISRC=GBELX0300452
LABEL=Avie
GENRE=Classical
TRACKNUMBER=1
WORK=Suite No. 1 In G Major BWV 1007
PART=Prélude
IMPORTDATE=2020-12-04

However, the import date is shows today

: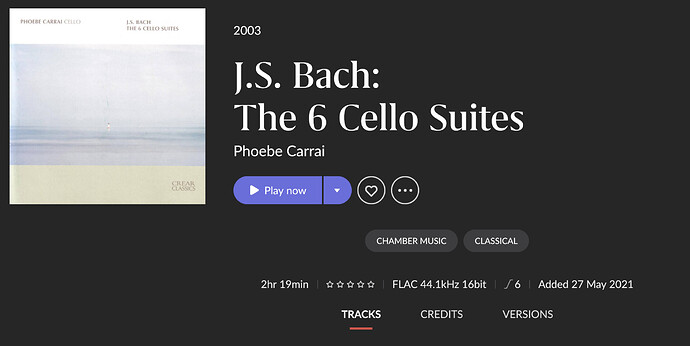 Also, the album preferences does not have an option to set the track's import date to the IMPORTDATE tag, only to the creation/modification date.
@support, please help.
Thanks
Haim