Roon Core Machine
Server:
Windows 11 Pro 21H2 - i7 10700K - 32GB - 28TB SSD Storage space
Client:
Windows 11 Pro 21H2 - i9 12900K - 128GB DDR5 - RTX3090
Networking Gear & Setup Details
Qnap 10GbE All wired (Ethernet)
Connected Audio Devices
Devialet Expert pro
Number of Tracks in Library
100k +
Description of Issue
There is a considerable number of albums that are listed twice in my library, the quobuz version and my library version.
the match is automatic for a good portion of the added albums (i'd say about 70%)
the match needs manual action via identify album (for 10%)
The match is simply impossible for the rest of them (20%) because the quobuz version is never listed in the match dialog.
I also noticed that this proportion shift dramatically with newer releases, although regrettable this is understandable.
But what I don't understand is how a quobuz album that is listed under an artist page is never listed in the match dialog search result when searching the artist name (or the album name, or both).
here is an example for one artists "Daniele Di Bonaventura" where 5 local albums are not matched with their quobuz versions.
This would not be a problem if the identify dialog would list theses quobuz version via it's search function.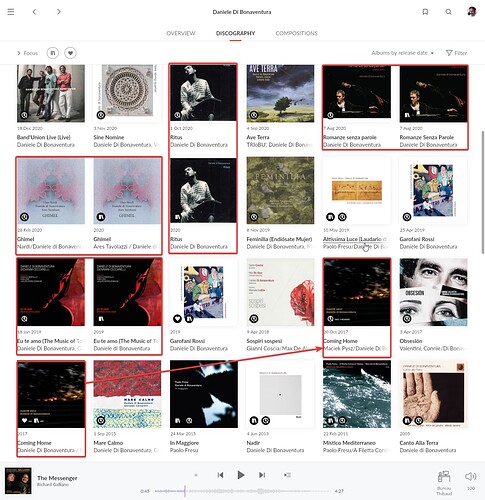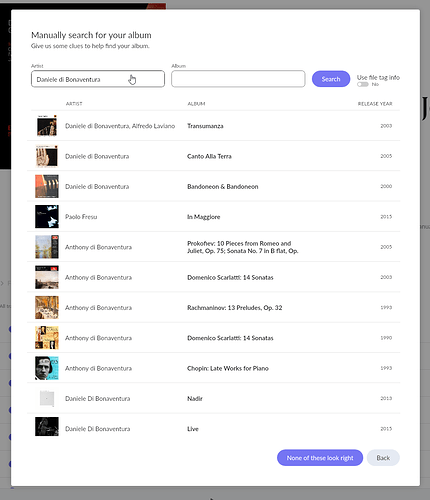 Edit: I managed to match 2 of them ("coming home" & "Ghimel") via a search of the artist name, but 3 remains unmatchable (which is consistent with 20% estimation given that I have 15 albums of that artist and 3 of them are unmatchable)