Hi,
I have an issue with the composer mentioned for the following album:
"Rameau: Pièces de clavecin en concerts" by Blandine Rannou.
Note that this album is not referenced, neither in Allmusic nor MusicBrainz.
All the required file tags are (meticulously) completed (with mp3tag), and notably:
COMPOSER: Jean-Philippe Rameau
ALBUMARTIST: Blandine Rannou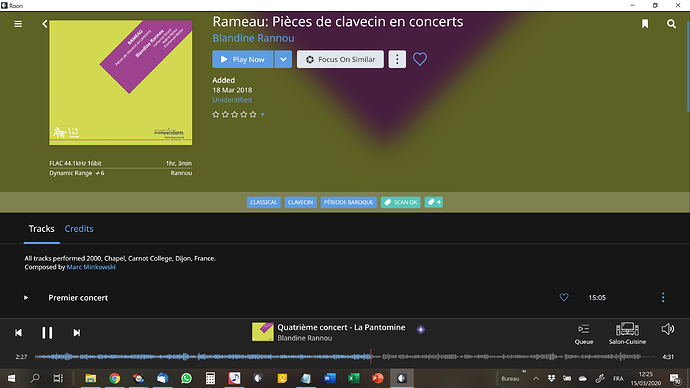 As you can see in the screenshot above, the mentioned composer is "Marc Minkowski", which is not only wrong (the composer is Jean-Philippe Rameau), but which doesn't appear in any of the file tags.
So, where does this information come from? The album is "Unidentified", so it cannot come from the Allmusic or MusicBrainz database (I suppose).
And why doesn't Roon include the composer actually mentioned in the COMPOSER tag?
Is it possible for me to correct the composer information displayed by Roon (I know how to delete or add artists, but not composers)?
Thank you for your help.
Thierry