Some of you may know my wife and I spend a lot of time at my 99 year old MIL's home in NC (she'll be 100 in June). When there, I use my Dell XPS 15 Roon core with Verizon Wireless data from two iPhones and two iPads, each with it's own data plan. I have a total of 160 GB of hotspot data before Verizon throttles it. I have unlimited data on all four devices, but I prefer using Roon on my laptop which requires hotspot data.
Last night I started exploring if it is possible to combine some of the throttled cellular devices thinking I might find a portable router that could do that. There are some, but I also discovered a software solution using Speedify VPN. So, after a short trial (2GB), I purchased a two year plan for US$99.99 that will probably be all I will need.
So, right now I'm using two devices that are on throttled data and one device that is still unthrottled. I have the throttled devices set as primary and the unthrottled set as secondary to stretch that out. It will be interesting to see how well this works with all three (or four) devices using throttled data.
This Speedify plan allows 5 devices and my Dell can use 4 devices with one connected by WIFI, two by USB A and one by USB C. It's working well so far. This will also be part of my fallback plan for when my U-Verse internet goes out when at home.
PS: Don't confuse internet channel bonding with internet load balancing.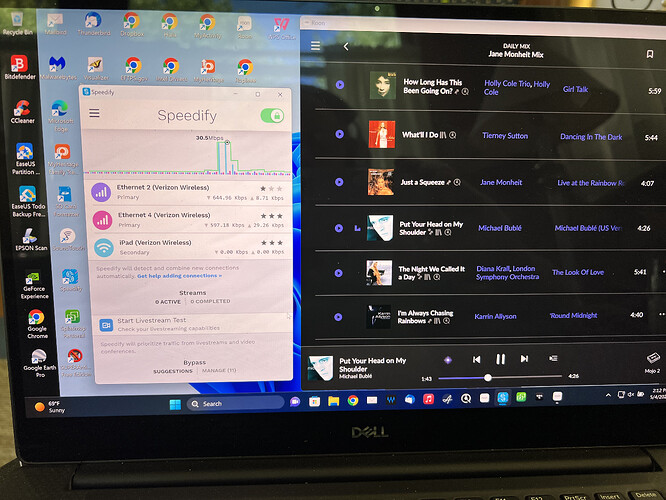 Here it is with two iPhones and two iPads connected…