thankyou all - got it working.
A google search for jazz Flac brought up an article from October of last year indicating that Europajazz would be broadcasting in Flac. I couldn't find a Flac stream on their website.
Anyone using their stream in Flac?
That is the station I want so badly but I found one link that didn't work. Please post if you find one
From here, I could get it to play on my iPad (though not Flac) but Roon wouldn't accept the url to add as a radio station.
Thanks - does anyone know if there are any BBC high res streams, I have been looking but not found yet. Thanks.
The BBC have ceased their trial, but were using a strange format. Brian posted about it here:
Nice variety of stations there. I added them and look forward to trying them out.
Thanks Andrew!

Magic Radio Link does not seem to work
See my post below prior to 1.5:
It's down for me too. It may come back up, don't know.
Hi Vule,
Yes, shame about that. It's one of my favourite stations.
Couple of months ago I asked JazzRadio.com support team about dropouts and cut outs after 15,20 minutes of listening of their stations links in Roon (256 kb/ 320 kb) and they replied to me that happening due to Roon software limitations to handle sample rate change (48/44) and put all blame to Roon. Though, there was no problem at all with 128 kb streams.
hmm having trouble with this… Am I to right click on the core software? I assume so. I get no popup menu…
maybe this has already been posted:
https://www.24bit96.com/24bit96khz-download-sites/hd-internet-radio-streams.html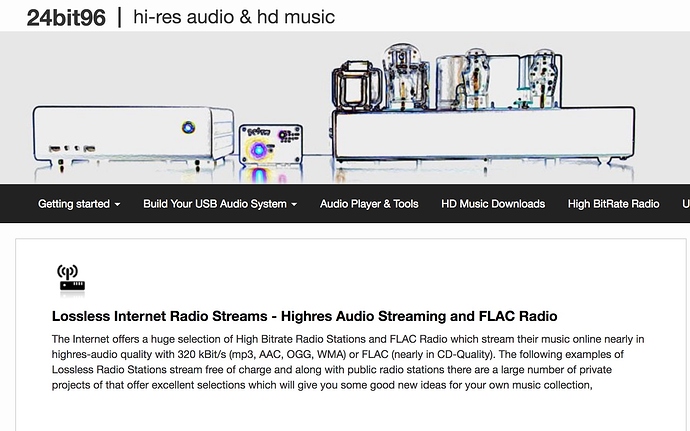 You go to the internet radio screen on the core software - the station that you want to add the image to. Right click and you won't get a pop-up menus but in the upper right you will see "edit" - click on that and you will see the same screen as when you originally added the station.
At the moment JB Radio-2 is streaming 192kHz, the interesting thing is that the stream arrives at my core at a rate of 2.5Mbps, but arrives at this computer from the core at 6.5Mbps, which is what you would expect playing a 192kHz file. It is almost like there is some MQA type folding done that the core unfolds and sends to the endpoint.