Is there no possibility on the iPad 9.7 in the portrait mode to switch? The landscape mode is annoying.
Thanks
Yes, it is annoying and no, it is not possible. Only iPad 12.9 has landscape mode.
Roon needs 1024 horizontal pts to render its UI. The only iPad currently offering that much is the Pro 12.9".
A UI overhaul is underway that will probably allow for portrait use on other sizes, but it's a major project that won't see the light of day anytime soon.
I can't comprehend why people want portrait. I can do this on my iPad Pro but never use it. It would be like turning my widescreen TV 90 degrees. That's just me though, and if people want it, it would be nice for them to have it.
Man is a habitual animal, one fell across the other. Since I mostly use the iPad for reading, I think it's in portrait mode. It would be nice if it leaves it to the user as he uses his application!
yup… for now, due to current ui layout and design, the only iPad that supports this is the big one… and then you chose which way you want to go.
This is the number one deficiency in Roon for me. I read my magazines, newspapers, forums etc. in portrait mode. I'm constantly having to turn my iPad around to access Roon in landscape.
That's really interesting, as to use portait just seem so wrong for me. I suppose it is what you are used to.
I use my iPad mostly in portrait mode. Turning it is like reading a book in landscape mode.
Different people, different usage.
Yes, but if one could choose whether to install the phone version or the full remote on tablets this would work? The phone version is portrait only?
I use a Samsung T235 (tab4) which luckily for me is detected by Roon as a tablet as I prefer to use the full remote. I have the phone version on my Note3. It is good as a remote, but if this was the only device I had I would need to run to a PC to access setup.
Hi ogs
Noob here. I have the same tablet as yourself. Did you ever figure out how to use the Roon Remote in portrait format or, like me, are you forced into landscape mode?
Thanks for any info
DDJ

Hi
I have not tried portrait mode actually. You'd have to change screen resolution to achieve this (I am not sure this is even possible on the T235). Then Roon would flip to portrait, but would also disable access to DSP etc… I.e. it would engage phone mode.
I tried the opposite on my Note8 phone. I got the tablet landscape view, but everything got so small that it was impossible to use.
Hi
Thanks for the quick reply. Didn't realise what flipping to portrait (even if it was possible) would sacrifice. I wonder if there's a way of reducing the height of the "now playing" waveform footer?
If you are thinking of the rather 'ugly' footer on the main screen this has been subject to much criticism. I know of no way to change it. It uses too much screen area and the colour… Would help a bit if it could be made partly transparent or maybe pick one of the colours in the current cover art to blend in better.
Thanks again ogs for the info. Yeah, takes up quite a bit of screen real estate in landscape mode. Autohide option would be great!
I love my iPad Mini and reverting to a phone just to achieve ROON UI Portrait Mode is just a step backwards to me… so I have been keeping a look out for an attractive looking docking stand/station that will allow landscape holding mode for a more pleasurable ROON experiece.
My current iPad Mini 2 docking stand is a Twelve South HiRise Stand for iPhone & iPad…
But they don't do a landscape version… anyone know of any other high quality alternative. I came across this on Amazon… but not sure about the build quality or the authenticity of the seller…
https://www.google.com/search?q=ipad+mini+landscape+dock&rlz=1C5CHFA_enIE878IE878&oq=iPad+Mini+Land&aqs=chrome.5.0j69i57j0l6.7428j0j7&sourceid=chrome&ie=UTF-8
But maybe I'm just over thinking it… I want to go down the ROON Remote app on my iPad Mini 2 and then out to my DAC… but having it in landscape mode on my portrait stand is just a head wrecker.
Anyone else know of any nice-looking, landscape compatible iPad Dock Stands…?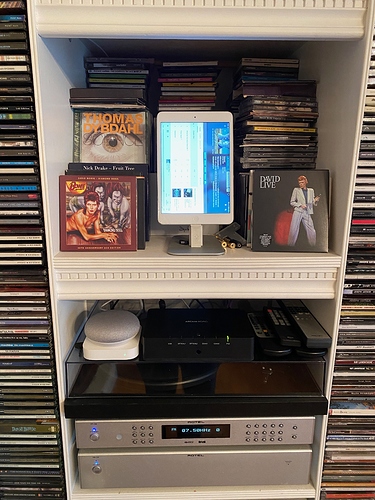 Best regards,
Anthony McCarthy
Not for me it isn't, I have a case for my iPad Pro that supports the iPad in landscape. Charge cable goes in on the right when needed. Volume buttons etc Top Left action button mid right. Perfect
That's great to hear Chris. Please let us know if your situation changes in the future so we can all adjust our lives accordingly. Until then, I'm puzzled why so many people seem to oppose (or mock) requests for portrait mode on iPads. It's not like anyone has suggested that they remove landscape support.
The current situation is a huge annoyance for anyone who primarily uses their tablet in portrait mode.
I'll let you know, but for now, all is great. Well it is for me anyways, and that's all that matters