For my portable headphone rig, I use the latest generation iPod Touch connected to a FiiO Q5S amp-dac via an MFi certified lightning to micro usb cable. This combination works great with Roon with the exception of the following "quirks," or things that I just need help to better understand.
When the iPod and Q5S are connected together both switched on and I open Roon, the iPod does not show up in my list of available Roon endpoints. If I unplug the Q5S, close the Roon app, then reopen the Roon app, the iPod shows up right away and can be selected. I can then plug the Q5S back in and begin listening.

I have DSP enabled in my iPod settings to convert the sample rate from 44.1 to 88.2. I know that the iPod on its own cannot do 88.2 kHz, but when I go through the steps above to begin listening via the Q5S (which can do higher sample rates), Roon shows that DSP is enabled but no sample rate conversion is happening. This is confirmed in my signal path. If I then open the DSP settings and toggle the sample rate conversion button off and on, it begins to work and my signal path looks the way I want it. Here's an example after completing both steps indicated above…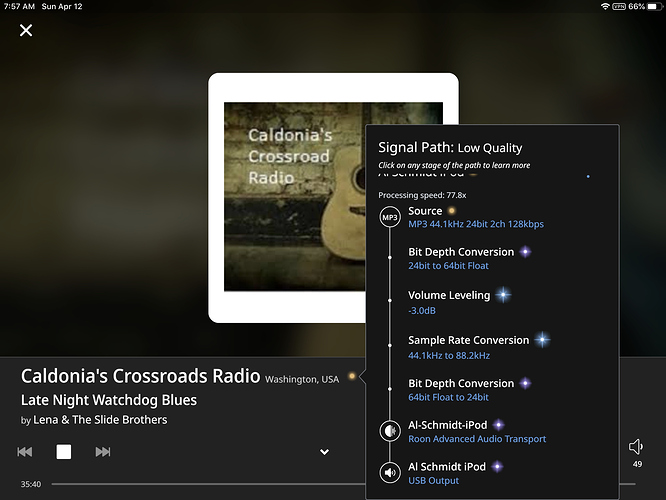 So my question is really how (or can) I open Roon with my iPod Touch and Q5S already connected together, have Roon recognize this endpoint, and begin playback using my chosen DSP settings without having to toggle DSP off and then on every time?

, if you read through all of that and can understand what I'm trying to say I thank you! Any insight is much appreciated.