For instance, but this happens elsewhere as well for artists with many albums in my library:
I have 32 main albums by Giant Sand in my library: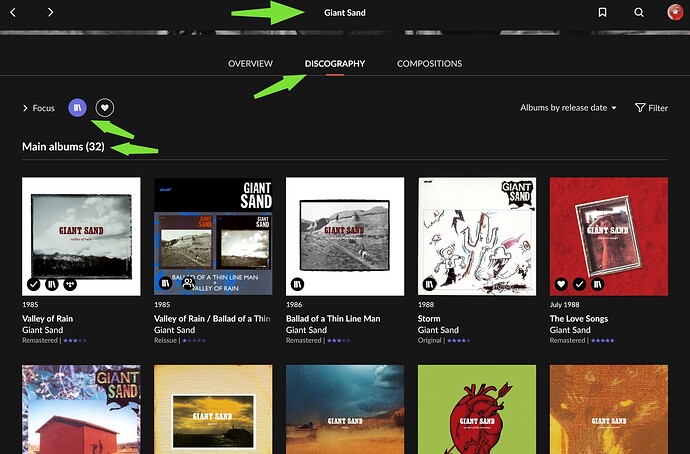 If I go to any of these albums and scroll down, there is the section where it shows other albums by this artist, with Selected Discography and My Library tabs. Going to My Library: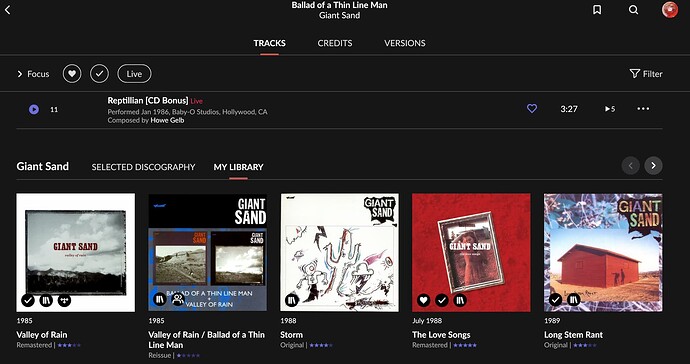 Using the arrows, I can chronologically scroll through 3 pages of 5 albums each, i.e. 15 albums, although there are 32 in the library. There are no chronological gaps.
Going to the Selected Discography tab, which has 5 pages. the first 4 have 5 albums each, the last one has 4 and a link to View Discography. I.e, 24 albums. They also chronologically sorted but now with chronological gaps, and partially the same as in the My Library tab.
Doesn't seem to make sense that My Library shows less than Selected Discography. I would expect that Selected Discography shows, well, selected ones (by play count or whatever criteria) and in the My Library tab I can scroll through all of them.