Hey Roon users,
We're currently running two competitions thatgive you the chance to win our JustBoom Raspberry Pi audio boards, Raspberry Pi 3's, and Audioengine speakers (in our opinion, some of the best speakers on the market!). For the Pi Supply competition, all you have to do is enter your email address. For our competition with Instructables, it's project based. Design your own audio project and upload it to Instructables. In total, there's a few thousand dollars worth of kit available to win!

Pi Supply
In celebration of our JustBoom product launch, we're running a giveaway that includes some very exciting prizes! Hundreds of pounds in prizes are up for grabs. All you have to do is answer a simple question. The best part is that for every friend you refer to the competition, you get an additional 3 entries for yourself…so start sharing and increase your chances.
First Prize:
Second Prize:
Enter the Pi Supply competition here
Instructables Amps and Speakers:
Attention audiophiles, DJs, circuit benders, and otherwise noisy people – the Amps and Speakers Contest is open for your imaginative entries. From speakers and tweeters to amps and subwoofers, we want to see all your speaker-related builds in this contest.
Enter to win some exciting prizes provided by Pi Supply and JustBoom. The best authors will take home a set of Audiengine HD6 speakers, a Raspberry Pi 3, a JustBoom Digi HAT and case, a Roon Labs subscription, and more. Now go make some noise!
The Grand Prize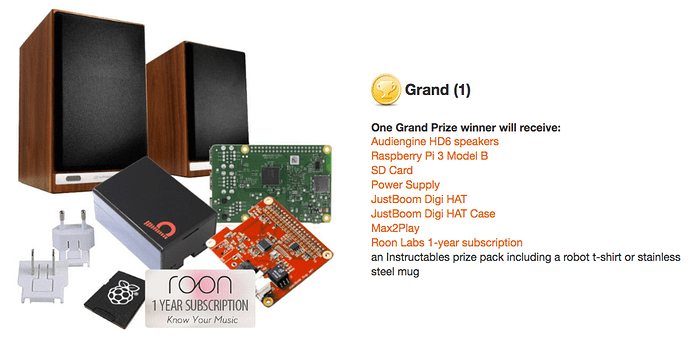 First Prize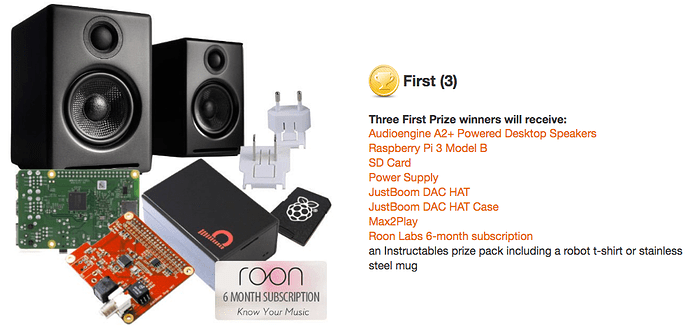 Second Prize