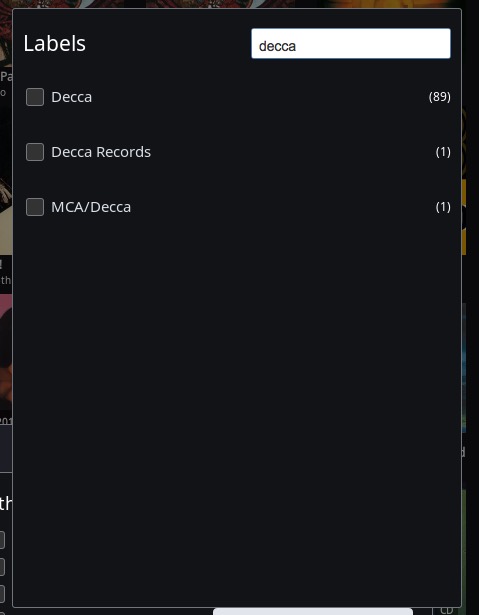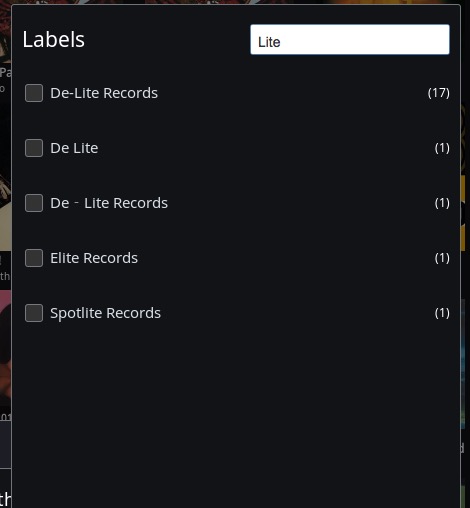 Is there a naming convention for label name?
In my library, various name are mixed.
Example.
xxx Records
Atlantic Records, Atlantic
Decca Records, Decca
Erato Records, Erato Disques, Erarto
Warner Bros. Records, Warner Bros.
De - Lite Recods, De – Lite Recods, De-Lite, De Lite
ECM Records, ECM, Ecm
Big Break Records, BBR
If you look at the database, "Records" is often omitted.
Is that "Big Break Records" have to be written as "Big Break"?
xxx Recordings
Track Mode Recordings, Track Mode
Soulfuric Recordings, Soulfuric
Guidance Records, Guidance Recordings, Guidance
Edsel Records, Edsel Recordings, Edsel
xxx Music
Warner Music, Warner
Sony Music, Sony
Wave Music, Wave Classics, Wave
Streetwave Music, Streetwave
Blanco y Negro Music, Blanco y Negro, blanco y negro
ZYX Music, ZYX Records, ZYX
Oyster Music, Oyster Records
Naked Music Recordings, Naked Music, Naked
Oyster Music and Oyster Recoreds are unrelated, but if Music and Records are omitted, they have the same name.
xxx Classics
Pentatone, PENTATONE, PentaTone, Pentatone Classics, PentaTone Classics
Channel Classics
Sony Classical
Warner Classics
Want to know the correct notation of "Pentatone".
xxx Sound
xxx Production
Far Out Productions, Far Out Recordings, Far Out Records, Far Out.
xxx Entertainment
Sony Music Entertainment
Kedar Entertainment, Kedar
e1 Entertainment, e1, Entertainment One, eOne Music
xxx International
Universal International, Universal International Music
Sony Music Japan International, Sony Records International
Philadelphia International Records
D.J. International Records
If I omit "Records" and "International", should "Philadelphia International Records" or "D.J. International Records" be written as "Philadelphia" or "D.J."?
Country name, local name
Ariola Records, Ariola, Ariola America Recors, Ariola America, Ariola Benelux
Virgin, Virigin Records, Virgin Records America, Virgin Classics
Twisted America Records, Twisted United Kingdom Records, Twisted America, Twisted United Kingdom, Twisted
Sony Music Entertainment, Sony Music Entertainment (Japan)
Epic, Epic Records, Epic Records (Japan), EPIC/SONY, Epic/Sony Records
EMI, TOSHIBA EMI, Toshiba EMI, EMI Japan
Columbia Masterworks, CBS Records Masterworks , CBS Masterworks
Others (xxx Trax, XXX, xxx, Xxx, etc.)
avex trax, Avex Trax, AVEX TRAX, avex
tidy trax, Tidy Trax, Tidy
FunkyTownGrooves, Funky Town Grooves, funky town grooves, Funkytowngrooves, FTG, ftg
FFRR, ffrr, Ffrr
His Master's Voice, HMV
Knitting Factory Works, Knitting Factory Records
Cloud 9 Dance, Cloud 9 Music, Cloud 9 Records, Cloud 9
Which?
Want to keep things organized.
Thanks.