As some of you guys may have noticed, Merging is demoing multichannel playback with Roon and their NADAC at the HIGH END show in Munich this week.
Demos are demos. Finishing the product is another thing. That's what this conversation is about.
We don't have a firm release date for this yet, so lets try to keep this conversation focused on the product and not on our release plans.
First, a quick teaser. Yes this works, but just because some bits are flowing doesn't mean that the product is done.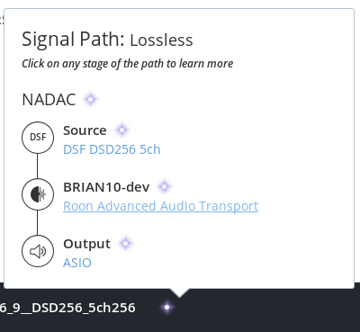 These are the questions on my mind, but anything you guys want to tell us about multi-channel would be great:
What software and audio gear are you currently using for multi-channel playback?
Where does your content come from, what formats, and how much do you have?
Do you down-mix multi-channel content for 2-channel systems?
Do you up-mix 2-channel content for multi-channel systems?
What DSP features do you require in a software player in order to make multi-channel playback practical?
Is there anything special that software needs to do to make your setup work that we might not know about?