Now this one is the first of it's kind i have ever seen.
Note the test pressing label.
Usually they are then hand written in what it actually is.
This one is blank both sides.
It is the correct record but this is as rare as rocking horse

.
Sounds mighty fine though!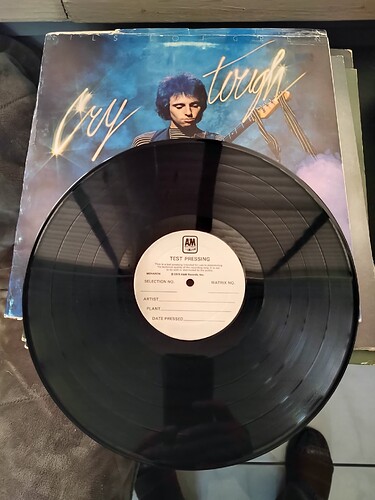 Thanks @Henri for this one. Metaphorically spinning it now.
Forgot to mention that strangely enough it has all of the test pressing information hand written on the plain white inner sleeve.
Again most peculiar.
You are very welcome. I love spreading the word.


Just came across this single artwork and can't help think the guy with the guitar is our good ole trusted @AceRimmer
Great cover. What's even better is that I'm going to be working at East Midlands airport tomorrow inside Rolls Royces hanger. They have a Spitfire, P51, a Chipmonk and a couple of other vintage aircraft. They also have a £22 million Learjet I'm hoping not to drop stuff on whilst working overhead. I'll take some snaps and post.
And credit to @Michael_Harris for this. I knew I'd seen it early on in this months thread. Cheers
Will add it later, just made it to the venue and it's an interesting place to say the least

Looking forward to your story.