Yes, I think it's back to normal now, finally. Very happy with it and I hope it stays that way.
Thank you, thank you, thank you. I had no idea how much I'd been missing this feature!
Yep, it really great to have this working again. Thanks to the room Devs for finally fixing this. I'm very happy.
This topic was automatically closed 36 hours after the last reply. New replies are no longer allowed.
Do you mean neither stream is clickable (they are for me), or the metadata shown in your screenshot should be clickable (there have been problems)?
Same problem as this?
Same for all stations?
All streams of same station have non clickable metadata.
Some other radio stations do have clickable metadata, see for example…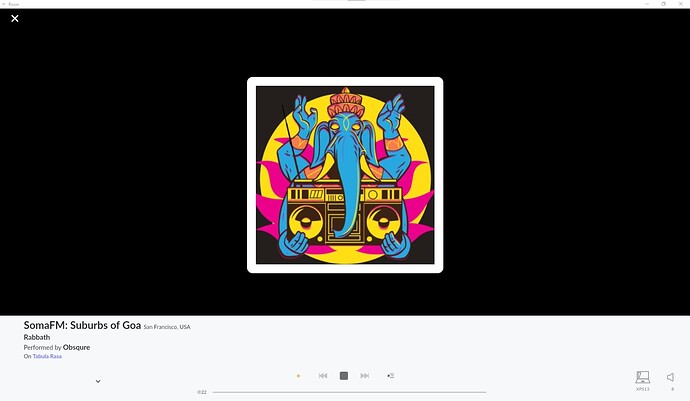 And today I can't either. Looking at my logs I see
Info: Got no track result for subtitle 'Mc 900 Ft Jesus - Buried At Sea'
So it seems to be a back end Roon thing where the station metadata can't be fully analysed.
Moving these posts to that other thread so as to keep things in one place.
@dylan to note please.
Same here with Radio Paradise. All stopped working.

Yeah it's on and off…


Revision 831 AND STILL NOT FIXED.
MAYBE IN 2022?
Groove Salad links haven't worked IN AGES and Roon is dead silent on this issue. Looking closely at other options now because being taken for a pigeon is not my style.
I suppose that since we are only a handful reporting this Roon has categorized it "have a look at it someday, but not anytime soon".
Well, Roon have stated that they are looking at it but that it is "a lttle trickier" than first thought.
I imagine @dylan and the backroom bods are rather busy just at the moment, but I'll politely ping him anyway.
There were some changes related to this in this release which were backend pre-requisites for permanently fixing this. We have additional changes in the works here, but I can't provide timelines just yet. We'll keep everyone in the loop when we have more info!