Running Roon 1.1 (build 55) on a laptop - MacBook Pro with OS X 10.10.5
Organized folder on a NAS (using NFS)
Depending on what I'm doing, I'll be either fully wired, or my laptop (only) is wireless.
I have an album I purchased and downloaded from Qobuz. Every time I drop the album into an Organized folder, tracks 10 and 11 get conflated somehow.
So, as downloaded from Qobuz:
01-10-Mayer_Hawthorne-Reach_Out_Richard-LLS.flac
01-11-Mayer_Hawthorne-Corsican_Rose-LLS.flac
Becomes this in the Roon Organized Folder:
1-10 Corsican Rosé.flac
1-11 Corsican Rosé.flac
And in the Roon Album view:

When I look at the File Tags via Roon, the TITLE for track 10 is correct: Reach Out Richard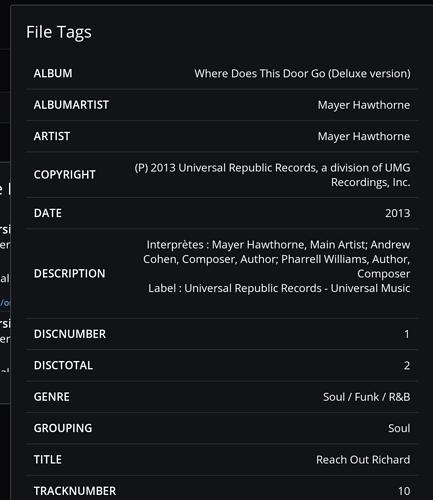 When I play track 10, the song is Reach Out Richard, despite the incorrect title displayed.
It's the only album I've seen this problem with so far, but it is reproducible. Deleting the album and re-adding it always results in this mixup.