Fanless? Should stay nice and cool even upsampling to multiple zones.

Running on a ASRock Deskmini 110 here. As System-Drive works a 256GB SAMSUNG EVO and for music i have a build-in 2TB FireCuda Drive. This all works on a Kaby Lake i3-7100@3,9GHz with 8GB of DDR4 RAM.
This configuration should be comparable to the best recommended NUC on Roon's List. It works beautifully, haven't tested DSP yet. There is place for a second HD in this thing and i can replace the CPU with an even better one if needed. I hope Roon supports this a long time…
Well, you know… if they don't, that's kinda the cool thing. Sure, our illegitimate toys will stop working. But if we've been doing backups, a full working replacement ROCK should only be one NUC purchase, one 10 minute install process, and one restore away.

Ahh… put you used the word "support". I don't think we get any support. That's kinda the point. It's not a ROCK. It's a MOCK.
This week I'm going to try ROCK in a VM, running under Ubuntu server, on a dual Xeon motherboard. Definitely inappropriate; just for laughs. Stay tuned.
Tried it already in a Parallels VM. Was working there. But I had to connect an external USB keyboard and (virtually pass it to the VM). The macbook keyboard was not working, when I tried.
Can find no love for Parallels, too bloody slow. Another VM I plan trying is a Hackintosh, so I can finally get rid of my i5 POS Mini.

Just installed it on my Vortexbox Mini. Working fine.Need to install ffmpeg and aac/MP3 capability and my MOCK hardware is complete!
Has anyone tried a Mac Mini yet?
All MOCKed up here - had some old kit sitting around doing not a lot so decided to see if it can be
put to good use.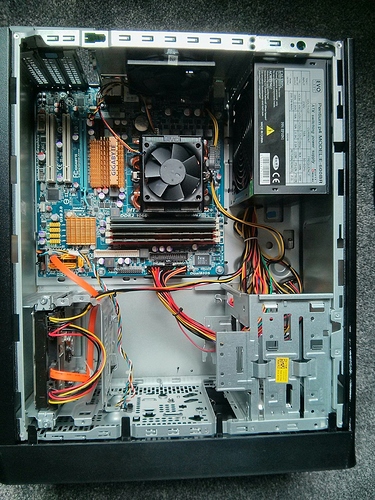 It's a GigByte GA-MA78GPM-DS2H with an AM2+ dual core processor and 8Gb of memory using an old Hitachi 300Gb drive all housed in a DELL inspiron chassis donated by my brother-in-law.
ROCK installed with no drama or problems (though it did suggest going and buying an SSD drive).
All running and playing fine - handles my 2000 odd albums fine and streams nicely to the SqueezeBox.
Just ordered a quiter fan and an SSD drive - this MOCK is staying put.
My guess is that certain drivers will be missing and that there may be issues with Apple's hybrid EFI BIOS.
Beyond that the fans are not controlled in the same way as they are on traditional intel platforms. Under a normal Linux install this requires installation of additional software to control the fans. This code isn't present in ROCK so the fans will not behave correctly. It's been a while since I installed Linux on a mini but if I recall correctly the fans don't run without the additional code.
It might install and work…then it might overheat. Be careful with this one!
So the fans simply don't run? I would have thought they would just run at full speed without controlling software/drivers.
This is what I honestly can't remember other than the fact that the behavior was strange.
Regardless, the Mac Mini fan is LOUD at full speed. Better off to run OS X , windows or Linux with the proper drivers than to try and make ROCK work.
My Mac Mini is out of the way serving my Endpoint so no noise to trouble my listening.
Good choice!
I am surprised that so few have discovered how good and cost effective the Asrock Deskmini 110 is.
It is more silent than a NUC and it uses the same power while idle/doing very little as the new gen 7. i5/i7 NUC.
You can go very cheap but still get the same performance at the i5/i7 NUC for much less.
For very cheap but still close to the top NUC Intel Pentium G4560 for about $60 or much faster i7-7700.
I use one right now for main windows desktop. it uses 13W idle and normaly about 15-17W while browsing and is completely silent with a i5-7600 with stock cooler set to silent profile in the BIOS.
The i5-7600 is as fast as a Skull trail and much cheaper and way more silent.
I'm running Rock inside Docker with a fanless mini pc made by ATLAST out of Great Britain.
Rocking with my Dock out! It's sporting an. ASUS ROG MINI-ITX MOBO, 32gb of DDR4X3000MHZ RAM, 256GB Samsung NVME DRIVE, 2X4TB RAID 2.5" 5400RPM HDDS, and a I7-KABYLAKE 2.9-3.7GHZ Intel proc.
What is the advantage of running it that way. Does it simply mean you can get it to work in any hardware or is there more to it?
Running multiple apps simultaneously & virtually. Auto restart containers that crash, something roon is good at. Separately storing and isolating each container's configuration and data in a separate data location (RAID 10 ARRAY), while the container os runs on the nvme ssd. Easily updating and restoring a container automatically or recreating all the containers with a simple script that recreates all of my containers without having to reconfigure the configuration or media data folders. I run a Plex Media server, Couch potato, Sonarr, NZBGET, PlexPy, Minergate, et al. They all runs flawlessly in containers, most auto updates, the one that don't I simply run a script that destroy and recreate containers with updated source images.
I never have to reconfigure apps. I mirror my RAID 10 blade server every week on a 2nd blade server with a 40TB RAID0 to ensure all 30TB of Media and all container configuration data folders are backed up for easy and fast recovery.
It's a bit of a steep learning curve, way overkill, and not for the faint of heart.
After a wee bit of tinkering with disk image conversion and a USB keyboard, I present you the VOCK, running happily inside a VirtualBox: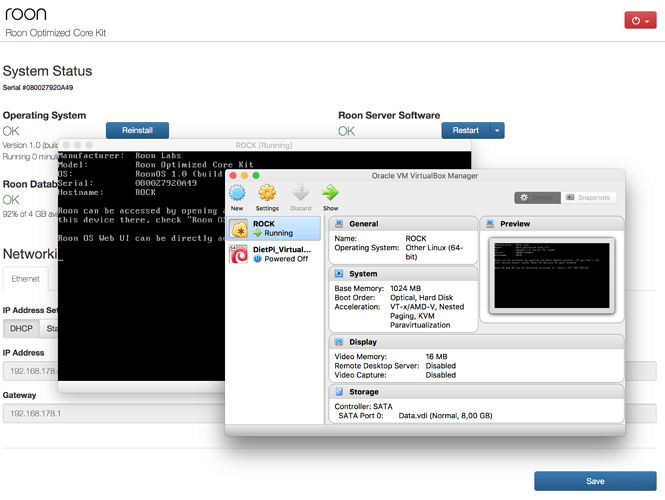 It may be better debugging that properly – Roon is very much capable of running 100% crash free, certainly on Linux.
I have an Alienware Alpha which is a nice small NUC sized form factor. Well, plus an LED triangle slice out of one corner and an LED alien head on the front. The graphics are a bit behind the latest but it has an i3-4130T @ 2.9 GHz. It came with 4G which I upgraded to 8G. I also upgraded the 500G HD to a 240G SSD.
I tried ROCK on it and it installed perfectly.
-weld