I'm putting a ROCK in a KVM VM for testing purposes (the testing is in another thread). Hence the info in this thread is quite interesting.
On a note related to Wizardofoz's post showing his A/B testing setup, this is how I A/B DACs: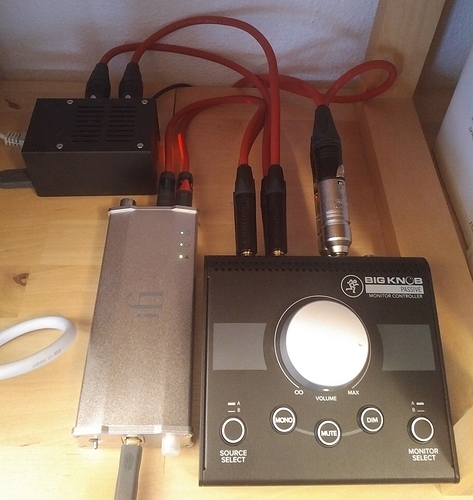 The Mackie BigKnob Passive has two sets of balanced source and two sets of balanced monitor (TRS) jacks, plus headphone.
Passive
Volume (down to -100dB)
Stereo / Mono
Mute
Dimm
No clicks whatsoever (!) switching source and/or monitor
So, if someone pushes the source select, and you listen and have your eyes closed, you hear nothing except the difference between the two sources. And if you group those in Roon and then match their volumes, you have a fully blind A/B test.
Seen in the picture are an RPI 3 B+ with a HifiBerry DAC+ Pro XLR (balanced) and an ifi iDAC 2 (unbalanced), which I am comparing trying to decide which I like best.

-Chris