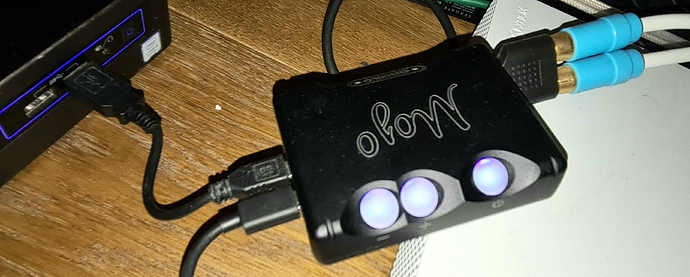 Please could I have any recommendations for how to improve my Mojo-ROCK setup?
I have attached a terrible photo, which possibly does this setup justice! It shows my Intel NUC which runs ROCK server, and sends Roon RAAT output to a Chord Mojo through a short USB cable. The DAC audio output is sent out of one of the Mojo's 2 headphone jacks, with a cheap stereo splitter connected to a nice 0.5m Chord interconnect (other ends are connected to a Rega Brio amp, out of shot)
Some ideas that I have seen from other posters and hi-fi sites include…
USB Signal stabiliser between the NUC and the mojo, to reduce the digital noise from the NUC?
Custom fitting 3.5mm jacks to the interconnects, and somehow running left and right signals separately out of the 2 headphone jacks on the Mojo?
Or investing in some new kit, like a dedicated streamer to run the digital signal to the Mojo- and remove the USB connection to the NUC?
Any suggestions that you have will be very much appreciated!