Hi Joe,
I've merged your post into this topic, as you will there's quite a lot of discussion on this.
I think you got the answer to your (the same, copy/paste) question over at the Bluesound board
I just updated my NAD M12 with bluos card to version 2.10.2 but it didn't resolve the issue of playing Tidal MQA files at full resolution (192/24 and 96/24 still play at 48/24). Still hoping for another Bluesound or Roon update soon so I can listen to the 192/24 Hotel California album at full resolution via Roon…
As of build 200, there is still no resolution to this issue. Can anyone from Roon comment if this is being worked on?
Response from Bluesound on this issue…
Feb 22, 10:33 AM EST
Thanks for getting back to us,
Do apologize, we are both still looking to find a solution for the MQA playback.
Thanks in advance, please let us know.
Mark D
BluOS Support Crew Analyst
I think BlueSound and Roon are doing their best to get MQA to work properly. But for now it works, just not as High-Res as it should. Both the BlueSound and Roon guys rock. Love how they're integrated in eachother.
[quote="Michael_Wyden, post:47, topic:19194, full:true"]
But for now it works, just not as High-Res as it should.[/quote]I'm not entirely sure what you are referring to when you say "it" works, but MQA is not working in the slightest.
Both Roon and the Bluesound products are great stuff, and when the two companies can resolve this, the collaboration will end up being a huge selling point (I am a Bluesound dealer). But as it stands now, I have already had to tell clients that the integration is not fully baked as of yet.
Well, if you have some MQA albums saved to your libary they will play just fine. The only downside is the resolution: 24/44.1 or 24/48. But they'll figure it out.
I only wish they'll integrate a Tidal MQA section as seen in the BluOS app. That would really help recognizing MQA albums. Or just put the MQA album on the cover.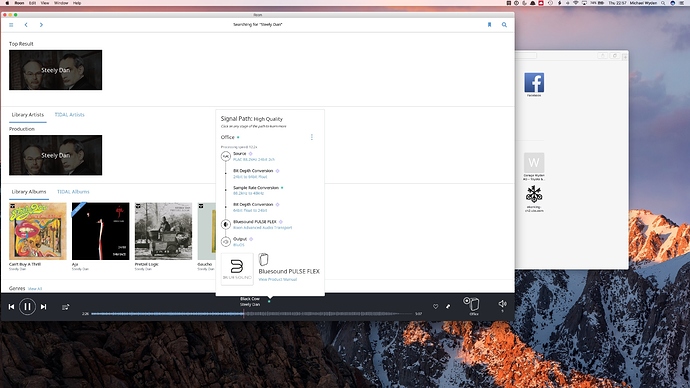 just played around with my Flex for the first time since the 1.3 update. Seems like not only the MQA files are not unfolded, but it also reduces all the other High-Res files to just 48kHz.
Michael, I think "played" is the operative word. Seems to me that you "played" with the DSD engine, disable it and I think all will be fine with your local Hires Flac files…
Nope, never even touched the DSD engine
I'd check to see that it is disabled, all of the long string of conversions you are showing only show up when that is enabled…in my setup anyhow
It really is disabled. I just checked again to be 100% sure.
I think Roon and my BlueSound Flex have some minor communication problem. Seems like the Flex tells Roon he can only handle 24/48 tracks.
Hi Michael,
Your screenshots do show dsp engine is enabled. Can you disable it completely… see top left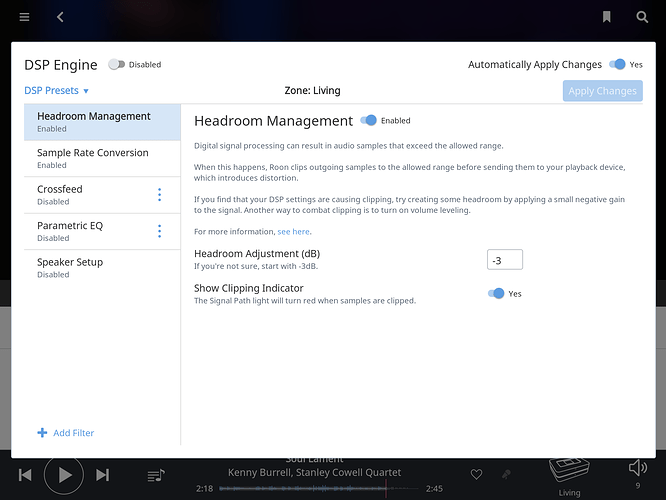 That said there is an issue with some bluesound speakers downsampling. Both roon and bluesound are aware and hopefully a fix is coming soon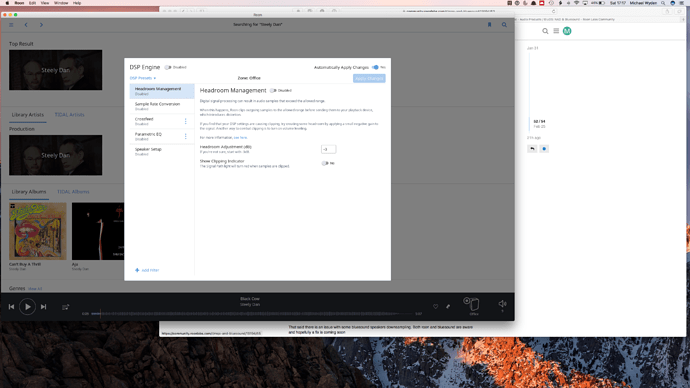 Looks quite right. Well, that's not a huge deal. I'll patiently wait for Roon and BlueSound to fix it

As of Build 208, this issue is still not resolved. Any work being done towards this?
I have also been waiting patiently for a Bluesound fix to enable playing Tidal Masters and local MQA files from Roon. No word from Bluesound as yet on status. I hope they are not simply waiting on Roon software MQA support, but I suspect a Bluesound update will eventually make its way out.
Rob, is this glitch really just a licensing issue by Roon?
To explain:
It is my understanding that in order to "legally" play MQA files, it is required that the MQA logo and colored dot be displayed, either on physical equipment or on a user interface.
When sending MQA files to Bluesound equipment, the MQA logo and dot are displayed within the BluOS app (and decoding occurs properly).
When sending the same file via Roon, right now there is not a way for an MQA indicator to be displayed.
Has MQA decoding within Bluesound hardware simply been disabled when the source is Roon, simply for licensing (and not technical) issues?
So MQA has header information that the decoder needs to see in advance of the decode happening. With RAAT today what we receive is PCM without the prerequisite info. Our developer and Brian have discussed in detail and this will be solved in a future release.
Thanks for the update. Good to know why the problem occurs and that a solution is planned.
Can you throw any light on a different issue (which is referenced earlier in this thread and in other threads) - some Bluesound products (Pulse Flex, Pulse Mini, Pulse Soundbar) force everything to be converted to 48KHz whereas other products (Node 2, PowerNode 2, Pulse 2) do not have this issue i.e. they play at the native sample rate of the source.